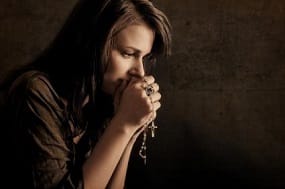 (1 Samuel 3:1-10, 19-20; Psalm 40:2 and 5, 7-8A, 8B-9, 10; Mark 1:29-39)
Today's first reading from the First Book of Samuel is arguably one of the most famous stories from the book, with God calling to Samuel three times before Eli understands what's going on. Most of the times I've heard about this story, it's been in the context of how we should be open to God's call and keep our minds and hearts open to the possibility that God is trying to get our attention. That's great advice! If you're doing that, keep doing that . . . and if you're not, think about what you can do to keep yourself open to God acting in your life. However, there's another angle that I never really considered until I reflected upon this passage with fresh eyes.
Look how important Eli is to this story. Eli was the priest of Shiloh with whom Samuel was receiving training as a child. Eli is the one who put the pieces together for Samuel, who made it possible for Samuel to respond to the Lord.
I think many of us express an openness and willingness to keep our hearts and minds open to God. But are we at least as willing to be a part of God's plans if we aren't the focal characters? Are we humble enough to use our lives to make it possible for others to do the Lord's will?
I see echoes of this theme reverberating in today's Gospel selection from Mark. In the first part of the Gospel, Jesus cures Simon's mother-in-law; however, before that could happen, Jesus' disciples told him about her.
More interestingly (for me) is the second part: "When it was evening, after sunset, they brought to him all who were ill or possessed by demons. The whole town was gathered at the door. He cured many who were sick with various diseases, and he drove out many demons, not permitting them to speak because they knew him."
Notice that first sentence: They brought to him all who were ill or possessed by demons. Again, like Eli, they needed to do the Lord's work to bring God's presence to others.
His disciples are not central to this story. I suspect many people, if they think about this passage, think of it in terms of the miracle that Jesus performed: He cured the sick and cast out demons. And that's as it should be! But the disciples, though acting nearly invisibly, did their part to help bring about these miracles.
Look at today's Responsorial Psalm! "Here am I, Lord; I come to do your will." Let that be in our hearts and minds as we try to discern our own place in God's plans. And it's possible that our place is merely in helping someone else have the resources, training, skills, or motivation to further God's plans.
Perhaps our place is not in religious life ourselves, but to be open and encouraging for our children to be involved in religious life. Perhaps our calling is not in tending the sick, but in teaching and honing those who would help the sick. Perhaps we are not called to defend the Word with heartfelt passion, but to encourage and support those who do defend the Word.
When we encounter Sacred Scripture, it's common to place ourselves in the position of those central to the story: "Let me open my heart and ears like Samuel." or "Let me be cured and healed as Jesus cured and healed others." However, we should also keep ourselves open to the possibility that we are not the most important "character" in our own stories.
Of course, we're all important in the eyes of God, but sometimes we can't see what we do to enables others to do God's will . . . or sometimes we refrain from action because it doesn't seem important or direct enough in God's plans. Perhaps it is! Let your hearts and minds be open to the possibility that your place is in helping someone else answer the Lord's call, or in helping to bring others – physically, mentally, or spiritually – to a place where someone else can do God's will. I've never given much thought to Eli before now; my heart has always been with Samuel. But if my place is to help someone else figure out the Lord's call, then I pray I have the sense of mind and strength of heart to do His will . . . even if it means I'll be mostly forgotten.