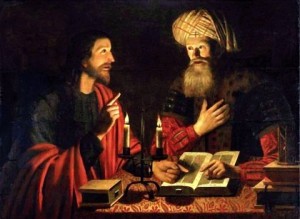 Did you happen to notice in today's first reading for mass, that Peter and John went back to their own people when they were released from the Pharisee's custody? They were drawn back to the people they belonged with.  Peter and John did not consider themselves to be superheros or anything, just members of the community they belonged to, like anyone else.  Indeed, it was the rest of the community that prayed to God on their behalf, that Peter and John would have the courage to speak up for Jesus Christ, in the face of such strong opposition from the chief priests and elders.
The first reading from the book of Acts ends by telling us that, "As they prayed, the place where they were gathered shook, and they were all filled with the Holy Spirit and continued to speak the word of God with boldness."
The Catholic faith community can also be a wonderful source of support, encouragement and strength when we are struggling with difficult situations in our lives too.  It is an oasis of peace and healing, a place where we belong.  A place where we, as a like minded people, come together to support one another and pray for one another, to live out our baptismal promises.  Our strength lies in our faith in Jesus Christ, but when one member of the faith community is weak in any way, the rest of the community can come together to help and support that person until Christ can heal their lives.  When a person is hurting in any way, the Catholic faith community can be like a hospital where wounds are cleaned, healing ointments are applied, and a bandage is put on, to protect the wound until the good Lord can heal the damage that was done.  We all need this healing cocoon of friendship, even the human side of Jesus did.
Life can get so complicated sometimes.  The simple truths about our faith that we were taught, and understood as a child can become distorted as an adult.  It is easy to get sidetracked onto rabbit trails that do not lead us back to God, but lead us instead, away from him.  This is even true while strictly adhering to our Catholic faith.  Even while doing your very best, to live out God's commandments in your life, within the context of our Catholic faith, it is still possible to get sidetracked or even lost, spiritually.  The devil has many tricks to divert us from the truth, water it down, or entice us into directions that are not life giving, but life draining instead, if we are not careful.
Nicodemus was a smart man.  He understood how complicated our faith can get sometimes, because he was a Jew and a Pharisee. However, Nicodemus was a man seeking the truth.  He was instinctively drawn to the source of all truth.  Jesus said in today's gospel that, "The wind blows where it wills, and you can hear the sound it makes, but you do not know where it comes from or where it goes; so it is with everyone who is born of the Spirit."  Nicodemus was a man being born of the Spirit.  He was only slowly coming to realize it, but Jesus recognized right away that the Spirit had led Nicodemus to him.
The Spirit leads us in the right path.  When we listen to the will of God, and follow the promptings of the Holy Spirit, we may do things that are a little out of character for us sometimes.  We might stay up too late reading the scriptures at night, or explore a new thought further, that opens up new possibilities for our lives.  Something we heard from someone else, that gives us an idea that might benefit our family's life, another person we know, or even the community we live in.  We inquire into it further.  What a great idea.  Why didn't we think of this before?  It's the perfect solution to a situation in our lives that we are struggling with. The truth is unveiled to us, a little at a time.  Where the Spirit leads us can often change our lives, if we trust the promptings and the guidance of the Holy Spirit.  The Holy Spirit draws us to Himself and always seeks our ultimate good.
We will find our way to heaven one day, because of whether or not we trusted the promptings and the guidance of the Holy Spirit.  There is nothing in the secular world, or the natural world, that shows us the truth of God's existence.  We are born from the Spirit.  Even if we see God's fingerprints in nature, it is because our soul first came to life and lived in such a way, that the truth was made known to us.
It's like what Christ's disciples said when they returned from their journey to Emmaus.  Jesus was made known to them in the breaking of the bread.  Dinner was just dinner, without their eyes of faith.  "What is born of the flesh is flesh and what is born of spirit is spirit."
Let us be attentive to the promptings of the Holy Spirit today.  Not just to notice the presence of the Holy Spirit in our lives, but to also act on it, the same way that Nicodemus did in today's gospel.  The Spirit of Truth drew Nicodemus and he acted on it.
Daily Mass Readings:
Acts 4: 23-31 / Psalm 2: 1-3, 4-7a, 7b-9 / John 3: 1-8