He was probably 6 when his mom got sick.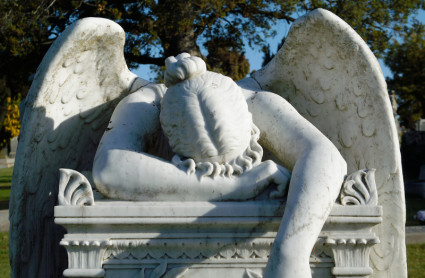 Cancer. Stroke. Heart attack.
Doesn't matter …
Today he is 7 and he is standing at the grave looking on as the casket is lowered into the ground.
He looks at you … eyes moistened, but rubbed dry because he wants to be tough. Strong.
"Why," he asks.
"Why did God take my mommy away?"
He asks you because YOU …
You are the one who walks and talks religion all the time. He sees you go to Mass. He sees you cross yourself before you eat – even if it's a cheeseburger and fries! – and he sees your funny little beads hanging from the rear-view mirror in your car.
He has asked his friends. His teacher. The nice people at the hospital.
Nobody had an answer … at least not a good one.
But you …
You're the religious one in the family. You take it seriously. You know the deal, right?
Irony.
You were asking yourself that same question as you drove to the cemetery. Why, God?
And you're pretty far away from the age of 7.
You think back … what did your mom tell you when your grandpa died? What did the priest say when your uncle was hit by a car?
What did they say?
Your mind is scrambling … you look at this child. He is looking back, waiting for an answer.
An answer that might just be the words that will ring in his head for the REST OF HIS LIFE.
Get it wrong and he might never have faith. He might never have hope. He might never be able to handle another death in his life.
Get it right and you may set him on a path where he is open to exploring the depths of God's love and His eternal promise.
You better be right …
Today's readings give you what you need. Paul tells us …
"We do not want you to be unaware, brothers and sisters, about those who have fallen asleep, so that you may not grieve like the rest, who have no hope. For if we believe that Jesus died and rose, so too will God, through Jesus, bring with him those who have fallen asleep."
Ah, the promise.
Death is not an end, after all … it's a beginning.
We are swooped up into the sky … we leave our earthly bodies, our souls reconnect with loved ones. We are reunited with grandma, grandpa, mom, dad, the friend who died too early in high school …
We are reunited with Jesus, who knew us in the womb.
And then you stop and think. This is 2015. We are so advanced in our world … science, technology, Facebook, Twitter.
The doubts begin to creep back in …
How can I possibly try and convince a 7 year old kid – a kid who knows  more about Instagram that I will ever know – that an ancient promise of life after death is actually the right answer?
It seems like such a folly.
Ah, but didn't Jesus experience the same thing?
In our Gospel today, our Lord unrolls the ancient text and reads the proclamation of the day.
"The Spirit of the Lord is upon me, because he has anointed me to bring glad tidings to the poor. He has sent me to proclaim liberty to captives and recovery of sight to the blind, to let the oppressed go free, and to proclaim a year acceptable to the Lord."
If he had only stopped there …
Roll up the scroll, walk away …
But, no.
He felt compelled to go on. To speak the truth.
He said to them,
"Today this Scripture passage is fulfilled in your hearing."
Whoa … what?
What did you just say?
You can't fulfill that scripture. Only God can.
You can't promise life after death. Only God can.
You can't tell me why my mommy died.
All of these thoughts are racing through your head as you look into the eyes of the little 7 year old.
You remember when you were 7.
How could he understand at such a young age?
How old were you when you understood?
Do you understand today?
Like a cold gust of wind in a lonely cemetery, the chill of doubt rushes through your soul and for a few seconds – a few minutes, a lifetime? – the doubts return.
How can I tell this little boy that his mother is no longer in pain, but is resting in the arms of Jesus.
How can you say that when you're not sure yourself?
You muster up the strength and let the words flow from your lips …
"This is an incredibly sad day," you say. "You are going to miss your mom for the rest of your life. I will miss her too. I miss my own mom.
"But every night before I go to bed, I say a little prayer. I pray that Jesus has taken my mom into heaven, where she is happy. I pray that she will look down and watch over me. And you know what? I feel her presence in my heart.
"And I know that one day I will join her in heaven. That is our promise. That is our hope …
"So keep your chin up. Be strong. And know that your mom is fine. And you will be, too."
Hope.
The most powerful 4-letter word.
Have faith. Hope is real. It is true. It is necessary.
It's what keeps us going.
It's the right answer.
No matter if you're 7 … 17 … or 70.
Pray that we never lose the comfort that our Christian hope gives us as we walk through this valley of tears …