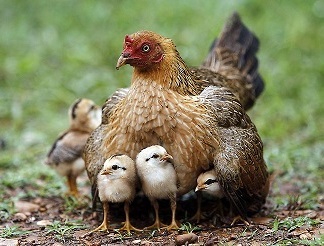 "If God is for us who can be against us?"  Saint Paul addresses Christ followers in the first reading today.  How awesome is the entire first reading.  It literally makes your heart come alive and burn brightly with the Holy Spirit the further you read into today's first reading from the  Letter of Saint Paul to the Romans.
"Who will bring a charge against God's chosen ones?  It is God who acquits us.  Who will condemn?  It is Christ Jesus …. who intercedes for us.  What will separate us from the love of Christ?  Will anguish, or distress, or persecution, or famine, or nakedness, or peril, or the sword?"
These are words to cling to every day of our lives.  Those of us who live in the United States do not suffer these things as extensively as people in other countries do, but there is a growing persecution of Catholic values in our country, especially in the federal courts.  Many other Catholics who live in different countries around the world do suffer tremendously in their lives though.  We pray for our brothers and sisters who are suffering, living in poverty or at war, in our masses on Sunday and throughout the week.  We as individuals should remember them frequently in our prayers as well.  Our hearts go out to them when we watch the news and hear about their suffering.  There is little we can do about it but pray, but prayer is the most powerful force in the world.
The first reading goes on to say, "For I am convinced that neither death, nor life, nor angels, nor principalities, nor present things, nor future things, nor powers, nor height, nor depth, nor any other creature will be able to separate us from the love of God in Christ Jesus our Lord."  How beautiful these words are!  They are completely filled with the Holy Spirit, even after two thousand years.  They literally come alive, live in your heart and make your heart sing.  It is a shame we do not remember these words every single day of our lives, for then we would never be discouraged, depressed, sad or lonely.  Even if we do have feelings like this from time to time, the Lord is with us even more.  Nothing ever breaks this bond of love, not even death.
Speaking of death, that actually leads us into today's gospel.  Some Pharisees came to Jesus and told him to leave the area because Herod wanted to kill him.  Jesus called him a fox and said "Behold, I cast out demons and I perform healings today and tomorrow, and on the third day I accomplish my purpose."  Yes, Christ speaks of his own death, but not that it is being forced upon him by Herod.  Jesus will willing accept his death in his own good time, in order to accomplish his Father's will and his own.
And speaking of his Father's will, the last verses in the gospel speak of his Father's will.  But, if you read carefully you might pick up on the way that Christ speaks of Jerusalem:
"Jerusalem, Jerusalem, you who kill the prophets and stone those sent to you, how many times I yearned to gather your children together as a hen gathers her brood under her wings, but you were unwilling!" 
Jesus is speaking as His Father in this scripture verse.  The Trinity is so obviously present in these words, how could we overlook this?  This verse in scripture profoundly establishes the fact that Jesus Christ existed before his birth.  Jesus Christ existed with His Father and the Holy Spirit, what we call the Trinity long before the world was formed.
The thought for today though isn't theology, but Jesus' love for us.  Jesus loves us like a mother hen too.  Isn't that a beautiful thought?  The way Jesus longed to gather his people under his protective wings, completely enveloped in his loving care. We picture Mary placing her mantle of protection around us, her church, and especially the clergy, but we seldom picture Jesus loving us and caring for us in this way too.
Jesus and His Father will never quit loving us no matter what, not even when we reject them.  Jesus' words in today's gospel most profoundly demonstrates that nothing in this world can ever separate us from his love.  It is our own fault if we separate ourselves from Christ, but even then he continues to love us.  There is no more beautiful thing in all of creation than the profoundly enduring love that Jesus has for us, and the love that we have in return for him.
Daily Mass Readings:
Rom 8: 31b-39 / Ps 109: 21-22, 26-27, 30-31 / Lk 13:31-35