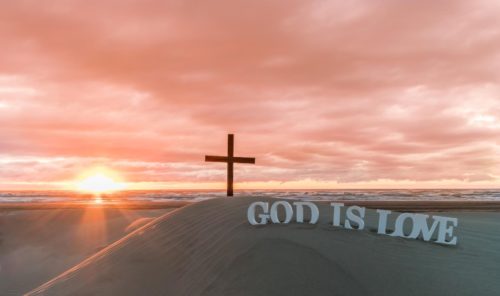 The world entices us with beautiful things; however, our hearts will not fully rest until we find ourselves resting in God's beauty. We seek "kings" (leaders) who we believe will deliver the happiness and prosperity we long for; however, there is only one true king who can fully fill our hearts with the happiness and prosperity we desire – our Triune God.  Throughout history mankind has placed its hope in worldly kings and pain has often followed. The subsequent pain cuts deep and we must go through struggle and strife on our return journey home to our true heavenly king.
Worldly Kings
In our first reading we see that the Jewish people rejected God in favor of a worldly king. They wanted to be under the leadership of a human king just like the other nations – falsely believing that such a king could give deliver happiness and prosperity. We may find this hard to believe. After all, they had as their king God himself. God the creator of all life, the only one who can truly deliver everything the human heart desires, was in their midst and yet they rejected his kingship.
God warned the people that the cost of choosing a worldly king over the one true king would be high. A worldly king will take all that the people held near and dear to their hearts; their children, their property, and their hopes and dreams. This king will leave them yearning for more, and yet, they still chose him. They rejected God's kingship and suffering followed. From this point on human rulers would be set over the Jewish people. Some were good God loving leaders, while others had their hearts orientated away from God. All were subject to sin and all fell short of perfection.
God Comes To Us
Sometimes I sit in awe as I reflect on Sacred Scripture. The simple truth is this – God will never turn away from us. He created us out of his love, in his image, and God loves what he has created. There is nothing we could ever do that has the power to stop God from loving us. Yet, we must choose God as our king above all other kings if we are to be truly happy. God is not a dictator king.
God knows the human heart and he understands our longings. Our hearts will never rest until we rest in him. This is why God came into the world in human form as the second person of the Holy Trinity – Jesus Christ. Now we have a king we can really relate too! Human like us in every way except sin, and fully divine. This king is the true King of the Jews – a king for the entire world.
Returning Through Suffering
Human suffering enters the world through sin and sin darkens a part of our interior. This darkness makes it difficult for us to see who we really are – creatures created in the image of a perfect all-loving God. Our return journey home to God is an internal journey through our suffering. On this journey we will need to forgive (ourselves and others) and we will need to learn how to love more – especially those individuals who are difficult to love. As we forgive and grow in love our interior becomes filled with greater light.
Sometime it's hard to seek God when times are hard. I understand. Worldly allures look oh so promising when we are hurting. However, looking for happiness outsides of ourselves will not lead to happiness. Our king and healer is inside each and every one us.
Like the Jewish people in our first reading today, it is tempting for us to desire a worldly leader when we falsely believe that he (she) can fix our internal brokenness. We sometimes hope, and often expect, that our political leaders will heal our internal pain. However, all worldly leaders are subject to sin and they cannot bring light into our interior – only our true King can do this.
Resting in God Our King
Today's Gospel reading shows us how to return to our King. We must stop at nothing to reach him. Can you imagine what it took to open the roof and lower the paralytic down on his stretcher in front of Jesus? Wow, what an act of brotherly love. The men loved their paralytic "brother" so much that they took extreme measures to place him in front of Jesus. What a risky ordeal. Climbing on top of the roof, cutting a hole, and lowering this poor man down! Talk about love of brother. Imagine for a moment what all of these men must have felt when the eyes of the paralytic met Jesus' eyes for the first time.
Our Gospel reading also shows us where we will find our King. He will be among many who love him – in a very crowded house. The house is crowded because so many want to be near him – how beautiful. There may not even be room "around the door" to see him. We will likely need perseverance and a "little" help from our brothers to get in. We are in this together with our brothers. One for all and all for one – and all for Jesus. Together we can find a way into the crowded house where Jesus is.
Forgiveness of Sin
The men who delivered the paralytic to Jesus loved God above all others and they loved their brother as themselves – perhaps more so. They honored Jesus' two commandments and in return the suffering man received healing as only a true King can offer. In seeking and finding Jesus Christ righteousness (right relationship with God) was restored for the paralytic. The paralytic, who was at the mercy of both his brothers and God, received the greatest gift of all – forgiveness and true healing. Sometimes it may be hard to carry one another, yet, like the men and the paralytic, we too must persevere and find our way to Jesus. A pathway through love and mercy is the only road.
Modern Day Leaders
Our modern day worldly leaders need our aid too. They are human beings subject to sin and we are called to offer them brotherly love. Prayer is a stretcher we can offer them when they are ill – and we are all ill to one degree or another. Also, while they can never be our true king, they can be our brother and carry our stretcher from time to time. They can do this by leading the people to God through praise and adoration of the one true King. Godly leaders, pointing the people to our Triune God, are leaders pleasing to God.
Lectio Divina
If you are looking for a way to find inner peace and healing I invite you to experience Lectio Divina. Maybe you are already familiar with it. On my blog I have shared how I practice this beautiful meditation. I invite you to visit it here: Lectio Divina
Prayer Intentions
Let's pray together for our leaders, praying that they become holy leaders, seeking the aid and counsel of the one true King. Also, let's pray for all who suffer pain, praying that they are assisted by brothers who are willing to take the steps necessary to help them come face to face with Jesus Christ. And let's pray for all who struggle with oppression, addictions, and brokenheartedness, asking God that they may find Christ through their struggles.
If you would like me to pray for you this upcoming week please leave your prayer request below or email me privately. Also, I invite you to join with me in prayer for all of the intentions shared here – mine included.
God bless all of you. See you next week Friday! – Carolyn
---
Sacred Heart of Jesus – have mercy on us.
Father God – consume us.
Holy Spirit – enter into us.
Blessed Virgin Mary – pray for us.
---
Today's Readings: 1 Samuel 8:4-7, 10-22 A; Responsorial Psalm 89: 16-17, 18-19; Allwluia Luke 7:16; Gospel Mark 2:1-12