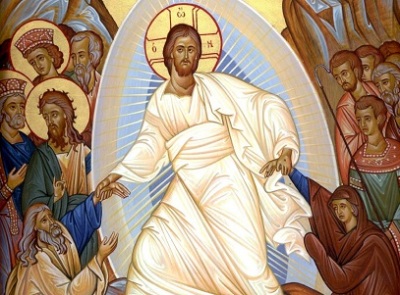 The first reading for Mass today starts out beautifully, "to you who have been sanctified in Christ Jesus, called to be holy, with all those everywhere who call upon the name of our Lord Jesus Christ, their Lord and ours.  Grace to you and peace from God our Father and the Lord Jesus Christ."
These words apply just as much to us today, as they did at the time that Saint Paul wrote them.  It is really amazing that we are so imperfect as human beings, but Jesus Christ sanctifies us.  We are made holy, not by our own merits, but by Jesus himself.  Any time we are discouraged about our own imperfections, or feel like we are not very holy, we should remember this verse in scripture.  Jesus makes up for our shortcomings, because he alone is perfect.  Our holiness comes from Jesus, and it is not gained entirely by our own efforts.
However, we are called to grow in our knowledge of Jesus, and to grow in holiness throughout our lives.  The first reading goes on to say, "with all discourse and all knowledge, as the testimony to Christ was confirmed among you, so that you are not lacking in any spiritual gift …"
There is also a modern saying that "ignorance of the scriptures, is ignorance of Christ".  It is important that we continue to learn about Jesus Christ through the words of sacred scripture, throughout our lives, because our perception and understanding of the scriptures changes as we age.  Just as we think we know all there is to know about a particular parable or story in Christ's life, a new insight will sometimes appear, because of our changing life's circumstances.
Toward the end of the first reading Saint Paul writes:
"He will keep you firm to the end, irreproachable on the day of our Lord Jesus Christ.  God is faithful, and by him you were called to fellowship with his Son, Jesus Christ our Lord."
One of the reasons the Catholic church teaches that it is a mortal sin to miss Mass on Sundays, is not because our Holy Mother Church wants to be strict and impose a lot of rules on us.  It is so that, "He will keep you firm to the end, irreproachable on the day of our Lord Jesus Christ."  Without that continuous support that we receive during our worship of God and reception of the sacraments, we run a great risk of straying away from the faith.  If you miss Mass once, it gets a little easier to miss it the next time, and so it goes, until you just don't feel like going at all anymore.  If a person persists in that state, it could jeopardize their eternal salvation, if death should catch them off guard.
All of this leads right in to today's gospel, when Jesus said:
"Stay awake!  For you do not know on which day your Lord will come.  Be sure of this:  if the master of the house had known the hour of night when the thief was coming, he would have stayed awake and not let his house be broken into.  So too, you also must be prepared, for at an hour you do not expect, the Son of Man will come."
The wicked servant in today's gospel probably didn't start out beating his fellow servants and drinking with drunkards, or neglecting his duties.  The devil's temptations slipped in a little at a time into his thinking, because he though that, "My master is long delayed."  The wicked servant thought he could relax a little and do whatever he felt like, because he still had plenty of time before his master returned.
We all know people who are killed, or die unexpectedly.  We believe it couldn't happen to us, but they probably thought that too.  The state of soul we die in, is permanent though.  We are fortunate just to have this warning in today's gospel.  There are many people who do not read very much of the bible.
The awesome part of the gospel, that you just can't help but think of our priests, is this:
"Who, then, is the faithful and prudent servant, whom the master has put in charge of his household to distribute to them their food at the proper time?  Blessed is that servant whom his master on his arrival finds doing so."
God bless our holy priests.  They have given their lives to the Lord Jesus, but also for all of us, so that we "stay awake" and remain faithful to the very end of our lives.  They are there for us every week, bringing Jesus to us in the Eucharist at Mass, but they are also there at the very end of our lives, for the anointing of the sick.  What a great comfort it is to know this.  In the last hours of our life, they come to pray for us, and help to reconcile us to the Father, and bring us Jesus as food to strengthen us for the journey home.
No Catholic is ever truly alone, in life and in death as well.   Thank God for this great, beautiful gift of our faith in Jesus Christ, our family, friends and the Catholic community we belong to.  This is worth protecting until the end of our days.
Daily Mass Readings:
1 Corinthians 1: 1-9 / Psalm 145 / Matthew 24: 42-51