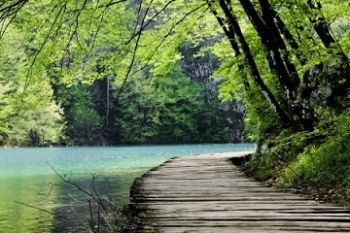 How good do we need to be to get to Heaven? It was a question I had while reflecting upon today's readings. In the Gospel selection from Luke, Jesus is asked by someone, "Lord, will only a few people be saved?" Christ's answer – which I will ruminate on – led me to think about my own skills and abilities.
I didn't learn how to drive a car until I was in my late 20s, over a decade after my peers traditionally acquired that skill. I did so almost on a whim; the time between when I got behind the wheel of a car for the first time and took the test for my driver's license was less than a week. Obviously, I learned a lot during that first week . . . and, even after being licensed, I spent the next several years honing my skills, figuring out how to drive through snow, up and down hills, through blinding rain, etc. However, today I think my skills have pretty much plateaued; it's possible I continue to learn new tricks or hone my abilities, but the greater likelihood is that I'm about as good a driver as I'm ever going to be . . . and, perhaps more importantly, as good a driver as I want or need to be. I've never gotten in an accident while driving, I tend to be safe and courteous, and my passengers don't claw at the dashboard whimpering in panic when I drive.
Conversely, I've been cooking in some form or another since I was 12. I'm nowhere near an expert – or even a terribly fervent beginner – but I can make most basic dishes, follow recipes, and understand directions. I challenge myself to hone these abilities, trying new techniques, researching beloved dishes to see if I can do something different, or even – in recent years – attempting to improvise meals. I see no reason to think that these skills won't continue to improve, provided I keep practicing them. Yet it's also a skill that I think I've mastered enough that I could stop if I needed to; I keep myself and my family fed when I put my mind to it, and there isn't any particular aspect I need to improve.
So, at several points throughout the Gospels – including today – Jesus is asked how difficult is it to get into Heaven, what exactly do we need to do to get into Heaven, or (like today) how many people will be saved. In all cases, Jesus refrains from giving a direct answer. Jesus doesn't always do this; there are lots of times he gives direct, concrete, quantifiable answers. Who should we baptize? "Go . . . and make disciples of all nations." How should we pray? "This is how you are to pray: Our Father in Heaven . . ." And so on.
But Jesus always refrains from making specific proclamations about who, exactly, is guaranteed to be saved, or what – exactly – is the bare minimum we need to do to get into Heaven. For example, in today's Gospel he says, "Strive to enter through the narrow gate, for many, I tell you, will attempt to enter but will not be strong enough." Instead of spelling out specifics, he warns us "some are last who will be first, and some are first who will be last."
So what's going on here?
The skills and mindset that are needed to get into Heaven are not like most other skill sets. From my point of view, perhaps the most paradoxical thing about thinking about what's required to ensure entry into the Kingdom of Heaven is that, if you ever reach the point where you feel like you're 100% certain that you don't need to do anything more to be assured of salvation, that's probably a good sign that you should not rest easy yet. I've always gotten the impression that the road to Heaven is a path we walk along; the destination is eternal life with God, and it's the forward progress that means the most, not a checklist of "have I met the criteria"?
There's certainly evidence I'm wrong. Our Protestant brothers and sisters who believe that by faith alone they are saved have scriptural evidence they point to; they've reduced salvation to a checklist with one item: "Believe? [ ]". But – as in today's Gospel selection – there's also plenty of evidence of Jesus noting how difficult it is to get into Heaven, how he expects us to act a certain way to bring about the Kingdom on Earth, how the last will be first and the first will be last. This lack of a clear-cut "you've done everything you need to do" checklist item leads me to think that Jesus really wants us to remain on the path, doing his will, our entire lives.
There are certain talents that I'm pretty sure I can coast by at my current level, like my driving ability. There are other gifts that I continue to hone as I'm interested, but I also believe I can stop at any point, like my cooking skills. But my desire to be one of those saved, to do what is needed to ever constantly grow in love and compassion, to do my small part to bring about the Kingdom on Earth? That's a road I hope to be on for a lifetime.
Today's Readings: Eph 6:1-9; Ps 145:10-11, 12-13AB, 13CD-14; 2 Thess 2:14; Lk 13:22-30