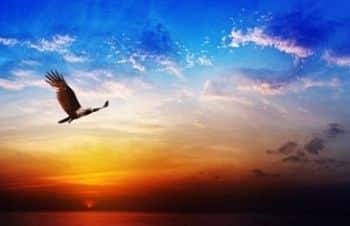 There is an amazingly beautiful moment that comes in family therapy. It is the moment I work for, though it is not a moment I can create. In this moment, people who have been focused on what others need to do for them suddenly change.  Their hearts soften.  They see with tenderness the needs, wounds, fears, and struggles of others.  Their perspective changes from "I want" to "we can."  It is a moment of the Peace of God.
In that moment, God comes into the struggles and conflicts of a family.  God heals.  God changes hearts.  After that moment, my work with the family is a matter of details.  Hearts are open.  Courage to face tough issues emerges.  People shift.  Problems become manageable.  Love returns.
Background of Trouble
We witness exactly this drama in today's first reading.  Our readings from Genesis this week have left out parts of the story that are important background.  We had the story of Abraham and his only son Isaac last Thursday.  God gave Abraham a ram in a bush to save Isaac's life.  As he did, God again promised Abraham that his progeny would be as numerous as the stars of the sky and the sands of the seashore.
Today's story is a story of that progeny.  Isaac had two sons, Jacob and Esau.  Jacob expanded the family substantially.  He had 12 sons.  One of them, a favorite, was Joseph.  Joseph's brothers were jealous of him.  They sold him to some traders who took him to Egypt.  There Joseph's capacity for interpreting dreams  gained him favor with Pharaoh.  Part of this came when Joseph correctly interpreted the Pharaoh's dream to mean that famine was coming.  Because of Joseph's interpretation, the Egyptians prepared for the famine.   They stored up grain.
Then the famine came.  It came to Canaan, too.  Abraham's great-grandchildren and great-great grandchildren were numerous and hungry. Jacob sent his sons to buy grain in Egypt to feed them.  In yesterday's reading we saw where Joseph recognized his brothers, but they did not recognize him.  He gave them a hard time.  He heard them begin to understand their guilt.  That, in turn, softened his heart.  Yesterday's reading ended with, "But turning away from them, he wept."
An Exquisite Moment of the Peace of God
Now, in today's reading, the brothers have returned to Egypt.  Joseph had told them not to come back unless they brought their youngest brother Benjamin.  We witness a moment that turned the history of what became the Hebrew people.  We hear Judah (who was about Joseph's age) plead:
"Later, our father told us to come back and buy some food for the family.
So we reminded him, 'We cannot go down there;
only if our youngest brother is with us can we go,
for we may not see the man if our youngest brother is not with us.'
Then your servant our father said to us,
'As you know, my wife bore me two sons.
One of them, however, disappeared, and I had to conclude
that he must have been torn to pieces by wild beasts;
I have not seen him since.
If you now take this one away from me, too,
and some disaster befalls him,
you will send my white head down to the nether world in grief.'"
This truth, spoken in love, melted Joseph's heart. "He could no longer control himself."  He had all the Egyptians withdraw "as he made himself known to his brothers." 
"I am Joseph," he said to his brothers.
"Is my father still in good health?"
But his brothers could give him no answer,
so dumbfounded were they at him.
"Come closer to me," he told his brothers.
When they had done so, he said:
"I am your brother Joseph, whom you once sold into Egypt.
But now do not be distressed,
and do not reproach yourselves for having sold me here.
It was really for the sake of saving lives
that God sent me here ahead of you."
An Essential Choice for the Peace of God
In that tender, exquisite, life-changing moment, Joseph forgave.  He let go of all he had held in and held onto through the years.  What had his thoughts been like?  He had been sold by his brothers, separated from all he had known.  There had been intrigue against him in the Egyptian court.  He had had a hard life.
But in the tender moment of love, he let that go.  There were great tears.  "His sobs were so loud the Egyptians heard him."  He forgave—and was able to see God's goodness in what had happened to him.
It is no small thing to let such great hurts go.
My observation is that seeing the perspective and distress of the other is necessary to make it happen.
Joseph had to see his brothers' (and father's) pain.  He had to feel it.
When he did, he could let go of his own.
Forgiveness is a choice.  It brings the Peace of God to a little corner of the world.  In it the Peace of God creates Peace in the world.  (see a previous reflection for a discussion of Peace of God and Peace of the World)  The Peace of God brings an absence of conflict which is founded on love and hope.
Forgiveness and Reconciliation
Forgiveness in this case led to reconciliation.  It doesn't always do that.  Reconciliation requires that people on both sides soften and see each other with love.  Forgiveness can happen one sided.  It is part of the Peace of God.  I love how Dr. Mary Healy puts it in her book Healing: Bringing God's Gift of Mercy to the World:
"To forgive someone does not mean saying, 'It's okay.  It's fine.  No big deal,' or 'They meant well.'  To forgive is not to minimize or deny an offense.  Sometimes it's not okay, and sometimes the person did not mean well.  But to forgive means I let go of my right to hold the offense against him or her.  It is between that person and God.  I choose to let God deal with it, since God alone judges with perfect wisdom, justice, and mercy." (p 96)
Forgiveness for great wrongs, like what was done to Joseph, is NOT easy.  It takes God's grace.
Yet grace builds on nature.  The Gospel today tells us one habit we can develop that can help us to forgive: let things go.
A Habit That Prepares Us for Forgiveness
Jesus is sending the disciples out to proclaim the Kingdom.  He knows well from his own experience that not everyone will welcome them or accept God's goodness through them.
So he gives some advice:
"As you enter a house, wish it peace.
If the house is worthy,
let your peace come upon it;
if not, let your peace return to you.
Whoever will not receive you or listen to your words—
go outside that house or town and shake the dust from your feet."
In other words, carry God's Peace with you.  For other trouble: LET IT GO.  Not with vengeance.  Just let it go. Shake the dirt of it off your feet.
The Peace of God is not dependent on the Peace of the World.  But it can bring peace to the world.  WE can bring the Peace of God to our world…by letting go of whatever hurts or wounds or serious injustices happened yesterday or last year or in childhood.
Not easy—but, can you imagine the beauty of that scene with Joseph and his brothers happening with you and your family?  Or your ministry?
Letting go seems a small price to pay for it.
Prayer:
Lord, you know how hard it is for me to forgive.  I judge.  I want to hold other people accountable.  I want to tell people off.  I want to say whatever it takes for them to see the wrong they've done.  Lord, when I do, send me to Genesis and Joseph.  Help me visualize the beauty of that moment of reconciliation.  Help me put myself and my little wars in that scene.  Then help me choose to be Joseph.  Help me to forgive and let go.  Amen.