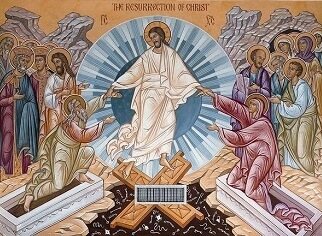 What difference does Easter make in your life?  An end to Lenten penances, yes.  Statues uncovered in church again, yes.  Flowers back on the altar and glad music sung, yes.  But what difference does Easter make in the way you live?
What's your history of understanding Easter?
Honestly, for most of my life, Easter didn't make a lot of difference in the way I lived.  Christmas and the Incarnation made a difference.  That God would come to earth to become one of us in order to lead us back to God has been a source of gratitude and commitment since early adulthood.  I have gradually come to appreciate the mysteries of the Triduum.  As I entered the Catholic Church, Holy Thursday came to be my favorite day of the year.  It still may be.  Eucharist, washing of feet, institution of the priesthood, the beautiful Farewell Discourse in the Gospel of John, Jesus fiat to the Father in Gethsemane—those events have become rich sources of worship and fidelity to me. Their mysteries guide my life.
But I did not fully appreciate Easter.  Easter meant someday I would go to heaven.  Because I was raised in a Christian culture and chose to be Christian from childhood, I have taken that for granted from childhood.  When my father became a Christian while I was in high school, I had a sense that family would be in heaven.  "And we would live happily ever after."  Through all these years my understanding and appreciation of Easter remained substantially childlike and simple.
Before Easter, Good Friday
In recent years I have struggled with the meaning and the necessity of the cross—why did God choose to save us by suffering?  What was the meaning of Christ's suffering, of the suffering I see around me?  How could Jesus take upon himself our sins?  Was that necessary?  While I still struggle some with those questions, I have come to the understanding that since God's essential nature is Love, God saved us by being himself–by being fully Love.  If God became something other than God is to do it—that other thing would be greater than God.  So God chose (and succeeded in) overcoming evil (and sin) by remaining loving, even in the face of the worst of the worst of suffering and evil that was heaped on him.
It wasn't that suffering was necessary to save us.  It was simply the inevitable effort of evil against God.  When Jesus said "Thy will be done" and followed through all the way to "It is finished… Into your hands I commend my spirit" without succumbing to evil, the resurrection was as inevitable as suffering and death had been.  That was the victory of God.
Your head may be spinning from this deep path of thought.  I am following the logic of St. Thomas Aquinas here.  He gives a much more detailed explanation that might clarify things for you.
Or let me get to the point of today's reflection:  Easter means a lot more than that we hope to spend eternity in heaven with God.
The Kerygma and Heaven Starts Now
Easter means heaven starts NOW.  Heaven starts now because since Jesus rose from the dead he is able to be very present to me in Frankfort, Kentucky today and to you wherever you are.  This risen Jesus wants a relationship with me (and you!) that will enable us to begin today to live in heaven's ways.
Jesus, 100% God and 100% human, is able, ready, and willing to walk and talk with me today in ways that enable me to become more loving to others, more filled with Truth, more faithful to God and his ways.  My human selfishness, pride, ambition, yearning for pleasure, and survival-of-the-fittest mindset can be gradually transformed into love, joy, peace, patience, kindness, goodness, gentleness, faithfulness, and self-control.  Jesus will lead me and guide me to that transformation. That transformation is heaven.  That transformation is possible because of Easter.
Heaven Starts Now is the title of a book by Fr. John Riccardo that some friends and I are reading together.  In the introduction Fr. John quotes Pope Francis in Evangelii Gaudium:
"The first proclamation must ring out over and over: "Jesus Christ loves you; he gave his life to save you; and now he is living at your side every day to enlighten, strengthen and free you." This first proclamation is called "first" not because it exists at the beginning and can then be forgotten or replaced by other more important things. It is first in a qualitative sense because it is the principal proclamation, the one which we must hear again and again in different ways." (164)
Easter is the Center of the Kerygma
THIS is the difference Easter makes.  Because of Easter we have not the story of a person who once lived, but the ongoing guidance of God WHO IS LIVING, who both loves us and has already overcome evil.  This is the message of the kerygma—the story of what God has done and is doing for all those who choose to believe in him enough to let him change their lives.
Pope Francis and Fr. John continue:
"It is the message capable of responding to the desire for the infinite which abides in every human heart. The centrality of the kerygma calls for stressing those elements which are most needed today: it has to express God's saving love which precedes any moral and religious obligation on our part; it should not impose the truth but appeal to freedom; it should be marked by joy, encouragement, liveliness and a harmonious balance which will not reduce preaching to a few doctrines which are at times more philosophical than evangelical. All this demands on the part of the evangelizer certain attitudes which foster openness to the message: approachability, readiness for dialogue, patience, a warmth and welcome which is non-judgmental." (Evangelii Gaudium, 165)
The kerygma is for all of us.  It is for those who came to Easter services only because a relative insisted.  It is for those who doubt and question everything about religion.  It is for those who are angry at God, Church, or life.  It is for those who tried to have a good Lent, but it has so far not yielded much fruit.  It is for the person who believes in the Catholic faith but has never thought about a personal relationship with God.  It is for the committed Christian, the disciple.  It is for those who are already priests, religious, or lay apostles. It is for you.  It is for me.
The Kerygma and Today's Readings
In today's readings, Peter gives the essentials of the kerygma to those who marveled at the man at the Beautiful Gate who had been healed.  Read it slowly.  Where do the words grab your attention and hold you?  That is where Jesus is speaking to you today.  He understands incredulity that resurrection is real and is offered to us now.  In the Gospel, as he came to the disciples, they were startled and terrified.  He said, "Peace be with you….Why are you troubled?  And why do questions arise in your hearts?" 
Today perhaps Jesus would say, "Peace be with you…Why are you complacent?  And why do questions NOT arise in your hearts?"
Then a great promise of God follows:  "Then he opened their minds to understand the Scriptures.  And he said to them, "Thus it is written that the Christ would suffer and rise from the dead on the third day and that repentance, for the forgiveness of sins, would be preached in his name to all the nations, beginning from Jerusalem.  You are witnesses of these things.
You are a witness.  I am a witness.
Heaven starts now if we live in that truth.
Prayer
For today, the psalm is so perfect:
O Lord, our God, how wonderful your name in all the earth!
O LORD, our Lord,
how glorious is your name over all the earth!
What is man that you should be mindful of him,
or the son of man that you should care for him?
R. O Lord, our God, how wonderful your name in all the earth!
You have made him little less than the angels,
and crowned him with glory and honor.
You have given him rule over the works of your hands,
putting all things under his feet.
R. O Lord, our God, how wonderful your name in all the earth!
All sheep and oxen,
yes, and the beasts of the field,
The birds of the air, the fishes of the sea,
and whatever swims the paths of the seas.
R. O Lord, our God, how wonderful your name in all the earth!
Amen.