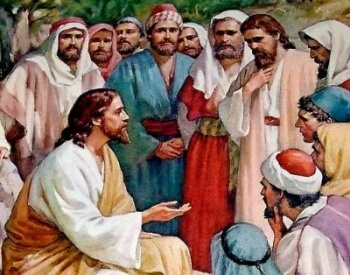 For years I made a serious mistake in my prayer life.  More than one Spiritual Director did not notice it.  It seriously limited my prayer because, in effect, it set me up to be less than honest with God.  What was it?  BEFORE I talked to God about something, I thought about it, trying to solve it myself.  My logic was that I suspected or knew I was not pleasing to God, so I needed to work on myself until I could get past my anger, hurt, fear, or selfishness.  I did not want to approach God to ask him to help me until I knew I could be pleasing.  I was afraid to have an honest dialogue with God.
I remember the day that began to change.  I was mad at my pastor about something.  I was SURE I was in the right, so I took my concern to God that day.  I was driving from Frankfort to the nearby city of Lexington.  All the way to Lexington I filled God's ear.  He listened.
THEN, a few hours later, as I returned from Lexington, in my head, God talked back.  There were these thoughts in my head that were not mine.  They made sense.  They dialogued with the thoughts and opinions I had been very sure of just a couple of hours before.  The new thoughts totally changed my perspective.
Permanently.
Honestly dialoguing with God that day was disconcerting, because I had never done it before.  But, to tell you the truth, it was also fun!  God was just as sharp-witted with me as Jesus was with the Pharisees.  Yet I didn't have a huge guilt-trip or sense of shame.  I was just plain wrong and willingly changed because it was clearly the right thing to do. I was glad to do it.
I'm still working on taking EVERYTHING to God right away.  Introverted, I still LIKE to ruminate and sometimes stew in my own juice.  I'm naturally analytical.  But I have recognized that I'm not going to get anywhere until I name what is on my mind and in my heart to God.  I have to let him see it.
Moses let God see what he thought and felt in today's first reading.  God and Moses were in the habit of talking.  God initiated the conversation today.  "The LORD said to Moses, 'I see how stiff-necked this people is. Let me alone, then,
that my wrath may blaze up against them to consume them. Then I will make of you a great nation.'"
Moses DIALOGUED back.  That is, he respectfully disagreed.  He debated, using logic and persuasion.
"But Moses implored the LORD, his God, saying, 'Why, O LORD, should your wrath blaze up against your own people, whom you brought out of the land of Egypt with such great power and with so strong a hand? Why should the Egyptians say, 'With evil intent he brought them out, that he might kill them in the mountains and exterminate them from the face of the earth'? Let your blazing wrath die down; relent in punishing your people.'"
God listened.  God was persuaded.  Today's selection ends, "So the LORD relented in the punishment
he had threatened to inflict on his people."
Honest dialogue can change God's mind and heart, too.
Today's Gospel reading continues the fifth chapter of John.  In this case Jesus is continuing an argument with the Jewish leaders that we have been reading all week.  In John's Gospel, Chapter 5 functions in a way similar to the Chorus in Greek drama.  It is a dialogue that interprets the actions before and after it to give readers in John's day an understanding of the first part of his Gospel, the Book of Signs. Chapter 4 included the story of the woman at the well which was the Gospel a couple of Sundays ago.  It also included a second "sign" in Cana, healing of the royal official's son. Then Chapter 5 begins with the cure of the man at the pool of Bethsaida, the Gospel reading on Tuesday of this week.
Chapter 5 is a dialogue between Jesus (God) and Jewish leaders. He is attempting to convince them to believe in him.  They questioned him about healing the man at the pool of Bethsaida on the Sabbath.  In the process of the dialogue Jesus had said, "My Father…" and this, then caused them to see him as not only disobedient to God, but also blasphemous.
In today's reading Jesus (God) is dialoguing, asking his listeners to look at evidence—John the Baptist, Jesus' works of mercy, Scriptures, faith.
Jesus then asks some tough questions, "How can you believe, when you accept praise from one another
and do not seek the praise that comes from the only God? Do not think that I will accuse you before the Father: the one who will accuse you is Moses, in whom you have placed your hope. For if you had believed Moses, you would have believed me, because he wrote about me. But if you do not believe his writings, how will you believe my words?"
Those are some serious questions for me today, too.  So I dialogue with God.  I read today's scriptures.  I notice what jumps out at me.  Today it is
How can you believe, when you accept praise from one another and do not seek the praise that comes from the only God?
First of all, as I take that to prayer dialogue, "What does praise that comes from God look like?"
The answer I get is "Love, joy, peace, gentleness, kindness, self-control…." –the Fruits of the Spirit.
That leads me to consider when I have been clearly aware of Fruits of the Spirit and when I have not.  How can I tell?  How much of a litmus test of pleasing God have they been for me?
That leads to more dialogue.  I can use the ancient prayer method of lectio divina to do it.  In lectio divina I start by reading Scripture.  Then I think about it.  What does it mean to me?  Is there something that seems new or especially interesting? It could be a word or phrase or verse. It might be enticing or troubling, but it holds me.  THAT can be a sign that God is dialoguing with me about that today.  As I dialogue, how do I feel?  What memories come to mind?  What passions or resistances come out?  Letting myself be totally honest about those things opens me up and gives God room in my soul to tell me something, show me something.  As that happens (it might happen as you pray or later in the day), I let myself rest in God, in my relationship.
Sometimes a dialogue will move 1/100 of a centimeter closer to God.  Sometimes it will jump me forward a meter.  And, yes, sometimes I get stubborn and go backwards.  Some dialogues may last over days or months.
God is willing to engage if I am willing to be honest and open.
Wow!
Prayer:
Lord, thank you for the dialogue with God that I have had while working on this scripture.  Thank you for helping me see that Fruits of the Spirit are a way you say to me, "Yes, Mary, that is being my daughter." Help me be more in tune with assessing where I am with you, Lord, by looking at my fruit crop:  "Love, Joy, Peace, Goodness, Kindness, Gentleness, Patience, faithfulness, and self-control." (Galatians 5:22-23)