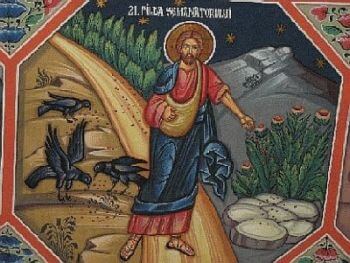 The gospel reading today is about sowing the seed of God's Word.  Jesus explains this parable very well and there is really no need to delve into it further.  The word of God is already sown in most of us.  There are very few people in the world that has never heard of Jesus Christ, and even if they are not a Christian, they have at least heard about Jesus and the bible.  God's Word has been sown throughout the entire world.  For an example, people visited this website from 142 different countries from around the world last year.  Our Catholic faith is truly a universal faith.  We share one faith, one baptism and one Spirit, as the body of Christ.  What an awesome thing it is, that you are here reading these words right now.  Your mind, your heart, and your soul is centered in Jesus Christ and in God's Holy Word.
The gospel reading today does have a legitimate warning for all of us though.  It is so easy to get distracted from the word of God.  God's word can become kind of like "sound bites" that we hear bits of each week at mass, if we aren't careful.  These little bits of scripture are a good thing, but if we are only exposed to the words in scripture for 2-3 minutes at mass each week, then the Word of God might not be putting down deep roots in the very fabric of our lives.  The roots of any living thing needs to be thoroughly soaked from time to time, in order to give new growth.  It is a good thing to step aside from our normal activities every once in a while and actually sit down and read the bible.  It's hard to grasp the big picture, just hearing the small pieces of the scriptures read at mass each week.
The words in the bible are living words.  They are filled with the Holy Spirit and they come alive in the human heart.  The words in scripture speaks most beautifully and intimately, to the person who reads them.  Jesus said that the sheep know the sound of the shepherd's voice.  We connect with God and with Jesus, in so many ways, most especially in the Eucharist that we receive each week at mass.  But, the Word of God shapes us, forms us, and refines us, to become more and more like Jesus every day.  That is, if we listen and act on what we have learned from the words in sacred scripture.
A real danger in our world is that we become what we think.  Our thoughts form who we are.  Before we do anything in life, we have to think about it first.  Our thoughts become the vehicle for our journey through life.  It is so easy to fill our minds with thoughts about our job, the internet, television, music, sports, shopping, the movies, etc.  Do we really want to become like these things?  No offense to the actors, musicians, sports figures, etc., but do we really want to become like them?  Have you ever heard the expression that you become like the people you are around?  We allow too many other things to influence us, other than the word of God.  The change is so gradual that it runs the risk of being undetected until it is too late.
There is a bit of hope in today's first reading for mass though, when God said, "if he does wrong, I will correct him with the rod of men and with human chastisements; but I will not withdraw my favor from him."  For those of us who are faithful Catholics, God will never stop loving us even when we stray from Him.  We may be punished by the law, or suffer the consequences for our bad behavior, but God will never let go of us. Even if our family and friends abandon us, Jesus Christ never will.  This is hope for the many young people and adults that were raised as Catholics all of their lives, but have strayed from the faith and no longer go to mass.  We should never give up praying for them.  God never gives up on them and we shouldn't either.
The parable of the sowing of the seed, the Word of God, is not so much about losing our salvation, as it is about failing to produce fruit for the kingdom of God.  It would be a shame to barely make it into heaven one day, empty handed.  We should work harder to bring a few other people along with us.  This is the fruit that lasts into eternal life.  Not our job, the internet, television, music, sports, shopping, the movies, etc.  Love is the only thing eternal.  God is love.  The word of God, contained in the bible, can be summed up in one word, love.
Love is the point of life.  Nothing else matters. Let us love other people just as much as we love God. Let us encourage them to come with us too. Heaven won't be the same without them.
Daily Mass Readings:
2 Sm 7: 4-17 / Ps 89: 4-5, 27-28, 29-30 / Mk 3: 31-35