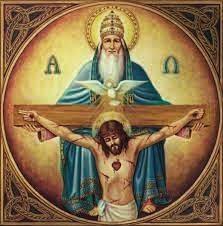 Today is the Solemnity of the Most Holy Trinity. What can any of us really say about the Trinity?  The best religious thinkers and theologians have reflected on the Trinity throughout many generations and have determined that we can never fully understand the Trinity.  God, Jesus and the Holy Spirit are simply too vast for our human minds to comprehend the fullness of their relationship with one another.  That is why the Trinity has always been referred to as a mystery.
In the first reading for mass today, this mystery is played out in words that seem flow back through eons of time that is simply incompressible to us as well.  We can't even begin to comprehend God's existence before anything else that came into being, including all of the stars and solar systems in the universe.  God existed before they came into being and the readings today indicate that the Holy Spirit existed before the heavens were established too.  They are both more ancient than we can possibly imagine.
The first reading from the book of Proverbs says that the Holy Spirit "was daily his delight, rejoicing before him always, rejoicing in his inhabited world and delighting in the human race."  The Holy Spirit sounds playful and joyous and like God's closest companion when the universe, the earth and mankind was being created.  It is a beautiful thought to think that we were created in joy, by God's loving hand. The Psalm today says, "When I look at your heavens, the work of your fingers, the moon and the stars that you have established; what are human beings that you are mindful of them, mortals that you care for them?"
Who among us has not stood outside at night at some point in our lives and gazed at the stars sparkling in the clear night sky and realized how tiny we really are? How is it that God could notice, let alone love, beings as insignificant as us?  Yet, He does.The Psalm today says that, "You have made them a little lower than God, and crowned them with glory and honor. "The catechism teaches us that we are also created to be above the angels as well. They are very intelligent, pure souls that were endowed with their knowledge and abilities all at once when they were created, but God gave us the ability to continue to grow into His image and likeness throughout our lives.
We disfigure the inherent dignity that we were born with though, when we do things that are wrong, when we sin. The angels were given a choice once, to decide if they were for God or against him and their choice was permanent and could never be changed.  However, God gave us freewill for the duration of our lives and that includes the ability to fall from grace sometimes. It is not by our own efforts that we become holy, it is only through God's grace that we are justified.
The second reading from the book of Romans says "since we are justified by faith, we have peace with God through our Lord Jesus Christ, through whom we have obtained access to this grace in which we stand". This most clearly demonstrates the grace that we receive through Christ's forgiveness in the sacrament of confession. This grace can not be earned. Jesus has provided this remedy for our sins and the suffering that it causes in our lives, by his forgiveness of our sins in confession.Sometimes it is a long road to find "peace with God through our Lord Jesus Christ" though, because of the many falls we make during our life's journey. We should embrace the sufferings that our falls cause us though and see the growth that comes afterward when we amend our lives. The second reading for mass today says "that suffering produces endurance, and endurance produces character, and character produces hope, and hope does not disappoint us, because God's love has been poured into our hearts through the Holy Spirit that has been given to us. "Each time we are restored to grace through the sacrament of confession, the Holy Spirit is the one who guided us and prompted us, to set things right with the Lord and with one another though.
In the Gospel today, Jesus said "When the Spirit of truth comes, he will guide you into all the truth."   We can not ever really know our sins, the patterns of sin in our lives and the true consequences of our actions without the Holy Spirit's guidance and revelation. Jesus said that, "he will not speak on his own, but will speak whatever he hears, he will declare to you the things that are to come. He will glorify me. "The Holy Spirit glorifies the Lord when he guides us to come to know the truth and helps to reconcile us with the Father, through his Son Jesus Christ. Then, we can know love more deeply after we have faced the truth about ourselves and found forgiveness and peace with God.
God loved the world so much that He gave us His only son. Jesus loved His Father and us so much that he gave his life for us, so that our mistakes, our choices are not permanent like the angels were.  Jesus set things right so that we could spend eternity with him and with His Father in heaven one day. They did this because they love us.  And love is what the Trinity is all about.  It boils down to one simple thing that all of us can understand.  Love.  God and Jesus love each other and they send their Spirit, the Holy Spirit to us, to teach us and guide us toward a deeper love for them and for one another.  Love alone is what matters and endures through eternal life.