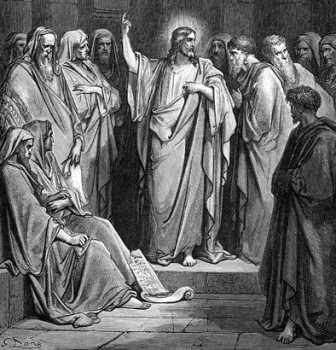 On the memorial of St. Ignatius of Loyola, we read about Jesus' humanity in the gospel. Inspired by the life of Jesus, St. Ignatius was a solder-turned-mystic who desired to live a holy life. Ignatius of Loyal is the founder of the Society of Jesus, often called the Jesuits, I don't know too much about St. Ignatius but I know that the Jesuits educate millions of students across the world with about 17,000 priests and brothers; they are the largest male religious order in the Catholic Church. They are dedicated to "finding God in all things" and serving the Church wherever the call might take them. I know a few Jesuits and I firmly believe that to know a Jesuit is to know Jesus.
In today's gospel reading from Matthew, people in the synagogue were questioning Jesus' authority to teach and his source of knowledge and wisdom. They were skeptical of a carpenter's son; of an average man. That is one of the most interesting characteristics of Jesus: his humanity.
The life of Jesus before his public ministry was as average as any other carpenter in that time. Jesus spent his days learning from his father and mother about everyday life. Being totally human, Jesus enjoyed and bore all the human emotions that we have. I'm sure there were times when he did not want to listen to his parents or times that his heart was so full of joy it might have burst. He was capable of experiencing anger, frustration, sadness, fear, and loneliness. He was capable of experiencing joy, love, compassion, forgiveness, understanding, and patience.
While living a completely human life, he also lived a divine life. The difference between Jesus and me and every other human is that he knew God more intimately from his first breath than we will ever hope to know. Jesus may have been capable of experiencing the full range of human emotion but because of his divinity, he lived in such a way that his humanity was the best that it could possibly be. We share the humanity that Jesus possessed but we are not as strong as Jesus nor is our relationship with God comparable to Jesus' relationship with God.
To know of Jesus' humanity is incredibly important because then we can know and understand that God truly knows and understands us. It is so comforting to go to Jesus, to a friend, who knows what life is like because he has experienced it also. Our faith can be so much stronger when we embrace the similarities between us and Jesus. The fact that we share humanity with Jesus makes up for our differences.
Even though we share humanity with Jesus, we are always falling short of what Jesus deserves from us. Unlike Jesus with his divinity, we struggle daily with sin and temptation. We do not even know that we can live more fulfilling lives. Fortunately, there are faithful and religious men and women all around us who strive to bring us closer to Christ.
St. Ignatius of Loyola began by desiring for himself to lead a holy and saintly life. His conversion has transformed into a global community serving everyone and anyone by living a life mirroring Jesus. The Jesuits have an incalculable impact on the world, especially in the service of Pope Francis as Shepherd of our Church. Today, let us remember the life of St. Ignatius of Loyola, learn more about Jesuit spirituality, and take one step closer to living a life mirroring that of Jesus Christ, the most holy human that has ever lived.