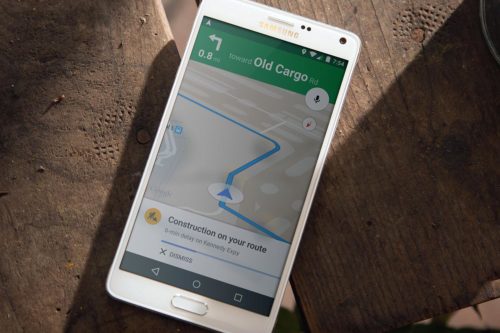 I often think of life, especially the spiritual life, as if it's a GPS. There is a starting point – where you are. And then a destination – where you are going.  If you've ever brought up Google Maps on your smartphone, and you enter in a destination that you'd like to get to, it'll come back with the fastest, most efficient route. The path of least resistance.
But then it also provides optional routes – some that may avoid expressways, or toll roads, or maybe an area of high traffic. Maybe it's a shorter route, but there are more stop lights so it takes longer. Or maybe there's some construction. Maybe it's a bad time of the day. You can tap on one of these alternate routes if you so choose, or you can follow the most efficient route, the first one that Google chose. It's your choice. You have the freedom to do that. Your only goal is that you get from point A to point B, and maybe today, you want to avoid the expressway or take a scenic route.
Or there's times, especially when you think you might be more familiar with an area than you really are, where you decide that you know a better route, only to get lost and off track, or run into a dead end, or an unforeseen traffic jam. Then you have to go back to the GPS and have it reroute you to get back on track. You made your choice, you thought you knew better. You had the freedom to do so, but rather than following the tried and true route to get to your destination, you thought you knew a better way only to be denied. Or perhaps it took you twice as long to get there.
But we have that choice.
This is so often how I look at my spiritual life, and my relationship with God. Christ is my GPS to Heaven. He's all of ours. He knows all the roads, and He's been down all of them at one time or another, but when we ask Him for guidance – He shows us the tried and true way. And yes, even though we have to bear our crosses along the way, if you look to Him, He will show you the path of least resistance. His path. But often, we think we know a better way.
If you look at all the readings today, there is so much jam-packed into them. Choosing to follow the commandments, the choice between good and evil, between life and death, and the underlying wisdom – that mystery beneath it all. Jesus hits on a number of choices today in the Gospel – disobedience, lust and adultery, anger and failing to reconcile and seek forgiveness, and lying.
All of these, if we let them overcome us, cause us to take a different route from the one that Jesus has laid out for us. All of these, like a route plagued with road construction, rough pavement, or a traffic jam, can be avoided. Just like the GPS will lay out a path that will avoid those areas of congestion, Jesus will lay out a path that will avoid those temptations, those near occasions of sin that would lead to those bad choices.
But ultimately, in the end, it is our choice. We can choose to drive on that route anyway, and get caught up in all the traffic. That is the consequence. It's nothing that Google Maps did. They told us to go another way. But we chose the familiar way, what we thought was better. Ah, that traffic won't be that bad. This thing is never accurate. I know a better way.  But sure enough, there we are, sitting on the highway when we should be wherever we are going.
How many times do we say this to Jesus?  Ah it won't be that bad if I get on Facebook and read all those angry comments. They won't bother me. Or I'll just go to this website and look at these pictures, just this once. Or, it's not a big deal to take part in a little gossip. Or, I'll just have one drink at the bar, there's no problem in having some harmless, flirtatious conversation. Or I know I gave them my word I would meet this deadline, but I'm working from home, I'd rather get out and enjoy the weather. I'll do it later.
These are near occasions of sin, those traffic hazards, those bad routes that Jesus is trying to help us avoid. And so thats what he means in the Gospel today, when He says:
"If your right eye causes you to sin,
tear it out and throw it away.
It is better for you to lose one of your members
than to have your whole body thrown into Gehenna.
And if your right hand causes you to sin,
cut it off and throw it away.
It is better for you to lose one of your members
than to have your whole body go into Gehenna."
He's not literally telling us to pluck out our eye or cut off our hands – but He's simply saying "Hey, avoid this situation that might cause you to get upset and angry, and say something you shouldn't. Or don't put yourself in a scenario where you might be tempted by pleasure, or by your pride and do something you will regret…"
Avoid those near occasions that might cause you to make bad choices. Avoid those bad routes.
From time to time, though, we will make poor choices and we will take a bad route, or we will simply get lost. Christ is there though, just like a good GPS, a perfect GPS, to reroute us and get us back on track, and if we trust Him, avoid trouble along the way.
He provides the spiritual navigation we need in our lives to get us to our eternal destination.
SIR 15:15-20; PS 119; 1 COR 2:6-10; MT 5:17-37