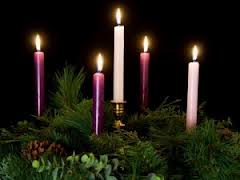 Happy New Year!  Yes, today starts a new Liturgical year in the Church. We move on to the B-Cycle of readings for Sunday Mass, and we start the season of Advent.
Advent – a time for penance and preparation. Preparation for the arrival of Christ in this world.
And so, as this is a new beginning, a new year for us, and we await the coming of new Life into this world through Christ, we must prepare ourselves, and get our affairs in order in our spiritual lives, which transcends into our physical lives.
This is a time where we let God begin to mold us, and shape us evermore into His sons and daughters that we are, that He envisions for us. This is a time where we prepare for the coming of His Son. But yet the way we prepare is to let Him do His work, and prepare us, as Isaiah says:
LORD, you are our father; we are the clay and you the potter: we are all the work of your hands.
Use this time to prepare. Use this time to let God form you. Use this time to let God mold and shape you over these next three weeks, and get closer to the person He wants you to be.
Life is a constant conversion, and Advent is a time where we can get back to the basics, and remember Who got us here, and simplify. Yes simplify.
The Christmas season is a very busy time in our society. It seems to start earlier and earlier, with trees and decorations, and commercials and the shopping season beginning in November, or even October. It is so easy to get overwhelmed and lose sight of what this season is all about, and why we are all here, why we are doing this.
We think about all we have to do – we've got all kinds of shopping to do, parties to attend a prepare for, and it can seem like December is the most chaotic time of the year.
But it's not Christmas yet. We can be excited and look forward to Christmas and the time spent with family and friends with anticipation. But as we prepare for all the events of this month, we must also prepare our souls and interior life for eternity.
And this is Advent. It's a time to simplify and prepare our hearts and souls for His arrival, and so we can use this season to clean out our interior selves of all that has cluttered us throughout the year. This is a time to turn inwards in some respect, and go on a spiritual retreat, and repent, clearing out all that stuff within us, making room for Christ to come and fill our hearts at Christmas.
It's just like when we pull all those boxes of decorations down from that attic, out of all the clutter and storage, and we often purge the things that are old or we don't use anymore – and decorate our homes with that which gives us joy.
This is our time to get all that stuff from our hearts and souls, purging ourselves of that which clutters us, that perhaps weighs us down, that which burdens us, and project the light of Christ to this world.
Take this time to see the peace and joy that comes from all the excitement in the world for Christmas. Even if society gets too caught up in the material aspect of Christmas, and doesn't really embrace the reason for the season, God uses this time to bring joy into the world. Seek to find it.
Use this time of Advent to simplify and go on a spiritual retreat and amidst the chaos that appears on the surface, look for the peace and joy and love that underlies everything – that transcends all. It may be hard to find, and often, especially in today's world we may be like the first verse in Isaiah where we may question God, asking:
Why do you let us wander, O LORD, from your ways, and harden our hearts so that we fear you not?
We may look at the world and all its troubles and wonder if God is even there, and have a hard time seeing the peace and hope and joy that Advent and Christmas seek to bring.
But it is there. Take this time to seek His Peace and Joy in the world around you, and let God prepare you for His arrival. Let Him mold you this Advent through increased prayer and reflection. Let Him forgive you this Advent through Confession. And let Him prepare you for eternal live through His Son.
IS 63:16B-17, 19B; 64:2-7; PS 80; 1 COR 1:3-9; MK 13:33-37