(JER 33:14-16; PS 25:4-5, 8-9, 10, 14; 1 THES 3:12—4:2; LK 21:25-28, 34-36)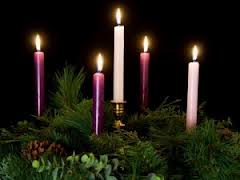 The meal is over. The leftovers are about gone. We've spent time with our families, but now we're gearing up for the trip home and back to reality. Another Thanksgiving has come and gone here in America.
Thanksgiving is perhaps my favorite of the secular, American holidays because of what it represents – being thankful for what we've been given. And yet there is such a Christian element to the holiday – breaking bread and feasting with those we love and giving thanks for all that God has bestowed upon us.
We give thanks for the year gone by. We reflect on what has happened in the previous year, the good and bad, and we are thankful that we are here together with friends and family as we look to the next year, filled with hope.
As we travel back to our homes, and prepare to settle into our lives again, we may be thinking about this time spent with our families. Perhaps it's joy. Perhaps it's love. Or maybe your visit was filled with anxiety and nervousness. Or perhaps even emotional pain and hurt. Times like these can conjure up all kinds of experiences and emotions in families, but we need this. We need it all – the good and the bad. We need to be there for our families, and bond with them. We need to spend time with those who may not have many years left, and we need to be with the young, and be that influence in their lives.
We need to build relationships in our families, and we sometimes may need to mend a few. But through it all, we give thanks. We are thankful for the road God has led us along, and the one He has placed before us. And we must be patient through it all, understanding the lessons and blessings God has provided us as we reflect on that year gone by, and seeking to understand His will in the year ahead. And in our Christian Faith, it's a new year. A new beginning. A time of preparation as we await the coming of God in the form of a human. A new hope.
Happy Advent!
These next few weeks are a time where we need to get back to the basics. Back to the fundamentals. A time where we spend a little more time in prayer and work to cleanse and prepare our souls for the celebration of Christ's birth. It's a time where we take a step back and examine the true meaning of the coming Christmas holiday, and a time where we identify those areas where maybe we have fallen short in the previous year, and a time where we look to Christ to help us with those shortcomings. It's a time of prayer and reconciliation, and a time of penance.
We need to look at how our spiritual lives have been. In the areas of our life where we have fallen short, we look to Christ to give us hope and help us to be better. If we are in a time of spiritual dryness – we look to Jesus to help us stay the course and provide the spiritual rains we need for the soil of our soul.
If things are going well in our spiritual lives, and we have a close, intimate relationship with God – then we look to Jesus to show us how we can do it even better, and stronger. This is what our readings tell us today.
Jeremiah tells us that God will send us a savior. Paul writes in the second reading how we need to live lives that please Jesus if we want to spend eternity with Him. Whatever we're doing, we always need to seek to do it better. The Psalm tells us of the path God has before us, and Jesus tells us in the Gospel how we need to be strong and vigilant in our faith, amidst all the evils and uncertainty of this world. Always. This is how we stay on the path.
Advent is a time to reflect on this and examine how we are doing, and give thanks for the days gone by, and the days to come. Advent is a time where we look to build our relationship with Christ, just as we do at times like Thanksgiving or other similar holidays, where we look to Him to help us to stay on the path, or perhaps get back on to the path.
And just like those holidays when we are around all those family members, our time in Advent where we seek to build a stronger relationship with Christ, knowing that it may conjure up some things we've tried to bury deep down inside of us. Things may bubble up to the surface. But this is a time, as we prepare to celebrate the birth of our Savior, where we face these feelings and issues we need to deal with and look to better ourselves through Christ.
Its that time where we give thanks for it all, and seek Christ's mercy to give us hope for the coming year. We give thanks to God, and ask for His forgiveness, and pray for His grace and love as we look to the future. Advent is a time where we strive to be patient with God, and patient in what He is trying to teach and say to us. We're thankful for this patience, because it's through this patience in God's plan and vigilance in our Faith that we are able realize what He has in store for us. My prayer is that we all make this a beautiful and grace-filled Advent, giving thanks for all we have, and the hope in Christ's grace for what lies ahead.
God Bless.