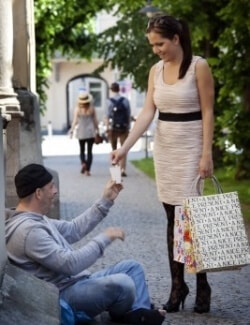 Peter began to say to Jesus, "We have given up everything and followed you." Jesus said, "Amen, I say to you, there is no one who has given up house or brother or sisters or mother or father or children or lands for my sake and for the sake of the Gospel who will not receive a hundred times more now in this present age …"
The sacrifices that Peter and Jesus spoke of in today's gospel seem like the stuff Apostles and saints are made of, not everyday people like us. Most of us haven't given up a house, or land, or mother, father, brothers and sisters, or children because of Jesus Christ or the Gospel. But, before you brush this verse off entirely, that it doesn't apply to you, maybe you should reconsider it's modern application.
What have you sacrificed in your life because of your faith in Jesus Christ? All of us, from saints to sinners have made sacrifices for Jesus Christ and the Gospel, even if we are not specifically aware that we have done so.
Are there things you would have liked to have had, but did not buy because you helped someone else instead? Maybe that someone else was a member of your own family, but that counts too. It doesn't have to be something spectacular to have value in God's eyes. The small things carry a lot of weight with Him.
Everyone knows that if you help a stranger, welcome them, feed them, or give them clothing, that you are fulfilling the corporal works of mercy. But, the person that we help can also be one of the members of our own family too.
Have you ever known someone who was very caring, loving, compassionate and generous to strangers, but did not treat their own family members that way too? We should strive to love strangers as much as our family, and vice versa.
Parents make a lot of sacrifices for their children that no one ever seems to notice, but God does. Every time a parent gives up something they wanted, in order to provide something their child needed, this is a sacrifice that has much value in God's eyes. This is an everyday act of holiness that many people take for granted.
Most of us sacrifice things that we want (like a new car, boat, computer, clothing, a fancier home, etc.), in order to contribute to the good of the church, give to charity, and help other people who are in need. Perhaps we helped a brother in law with a new battery for his car, or fixed a poor neighbor's washing machine without asking them to pay for the parts. Perhaps we gave some used furniture or appliances to charity, rather than sell them and keep the money. There are many small things people do over the course of a lifetime to help other people, that no one but Jesus notices. To the rest of the world we may seem poor or not as successful in life because of the many ways we help other people, but that is ok. The joy in our hearts, and in the hearts of those we serve, does not have a price. You can't buy it. You can only give it, or receive it. Isn't that the way love is? You either give love, or receive love – but you can't buy love.
Today, maybe we should realize that we have grown in holiness and have followed the Gospel reading in our lives, even if it is not visible to other people. Hopefully, we have not spent our lives on acquiring more and more things for ourselves, but have learned to actually live out what Christ has commanded us to do in the Gospel, even if we are poorer for it. The sacrifices we have made for the Gospel may be visible through a lower standard of living, or in owning less expensive possessions than our contemporaries. We should not be ashamed of this.
Some of the happiest people I know, are poor. They have a freedom in life that money can not buy. The poor live genuinely, without pretense or airs, and with simple joy, caring, and concern for others. They will often give you the shirt off their back if you need it more than them, and it brings them much joy to do so. They spread Christ's love and generate much joy in whatever circumstances they find themselves in. Perhaps they are the hidden saints among us, and we could learn a lot from them.