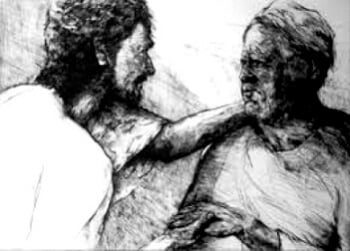 One of the most frustrating weaknesses of humankind is our ability to be ignorant and spread ignorance like a plague. In our media-driven world where the knowledge and facts are readily available, one would think that ignorance would be hard to come by. Yet people are as ignorant as ever. The onslaught of media in all aspects of life actually makes it more difficult to seek out the truth because of the quantity of opinions available. There are too many thoughts, too many sources, too many opinions to find the truth. It takes too much time to avoid ignorance so we simply allow ourselves to be ignorant.
They say ignorance is bliss. "If I do not know what is happening to the Syrian refugees flooding into Europe, I cannot feel bad for them, I cannot feel guilty for not helping in any small way, and I can continue living within my world of stability and comfort."
Ignorance is bliss. If we do not know about the warfare, about the genocide, about the inhumane acts of terrorism, we cannot be stressed about it. We have too many troubles of our own to worry about, why should we care about someone else's war?
"I'm tired because my daughter is teething and requiring a great deal of care and attention."
"I'm stressed at work because we are taking on too many projects." That also means "I'm stressed at work because we're making too much money."
"I'm worried about my kid going into public school next year, what if s/he starts hearing more about sex, drugs, and alcohol?"
"I'm anxious because…"
"I'm uncomfortable with…"
"I'm frazzled about…"
The list can go on and on. We all have "problems" like our kids are growing up too fast, our business is too profitable, or our friends are too caring about my life and are too nosy.
We are so bogged down with our own lives to acknowledge the pain of others. Not just the injustice of the Middle East but even the social problems of our own communities. When was the last time that we read about bad news and actually thought of the victims, their families, and what their life might be like now? When was the last time we read bad news and thought of ways that we could help?
"Well, it's just too difficult to do those things, I'm too busy with my own life."
You shall indeed hear but not understand,

you shall indeed look but never see.

Gross is the heart of this people,

they will hardly hear with their ears,

they have closed their eyes,

lest they see with their eyes

and hear with their ears

and understand with their hearts and be converted

and I heal them.
Jesus asks us to open our eyes to the injustices of this world. Jesus asks us to open our ears and hear the cries of our brothers and sisters. Jesus asks us to lay down our worries, troubles, and pain at His feet so that we can love our neighbors properly.
There is so much strength in loving the neglected, the forlorn, the forgotten, and the refugees. We grow stronger each time we open our ears and listen to others and actually hear them. We grow stronger each time we see injustice and acknowledge it. We grow stronger because it is not only our brothers and sisters we are loving, it is Jesus.
The next time you hear of terrible news, do what you can to help. If all you can do is pray a rosary for the victims, then just pray the rosary for them. If all you can do is pray one Hail Mary and one Our Father, then just pray those prayers for them. If you are able to give, give generously. If you are able to serve, serve selflessly.
There is great turmoil in every society across the globe. With this great turmoil, Christ is asking us to step up, open our eyes, open our ears, and love as we are loved.
Daily Mass Readings: Jeremiah 2: 1-3, 7-8, 12-13 | Psalms 36: 6-7 AB, 8-9, 10-11 | Matthew 13: 10-17