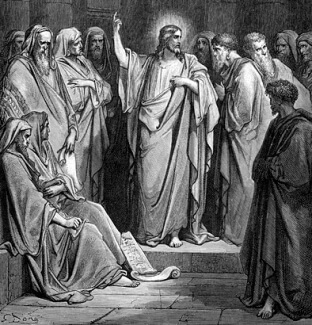 Teachers change the world. Karl Marx, a nineteenth century philosopher and teacher, gave birth to Communism. Norman Lear promoted a philosophy that we call "secular humanism" through his clever and humorous TV shows. Many of their ideas still govern the thinking of twenty-first century minds. Teachers, in a way, govern the direction of the world. We humans have a deep need to learn and constantly "shop" for teachers who will stir our minds. Something inside us hungers to be taught.
The Israelites of Jesus day were no different. They hungered to be taught the ways of truths of God. And, so they programmed their lives to attending synagogue every Sabbath. There the Scriptures were read and the local scribes would try to give their opinions and explanations. From our gospel reading today, I wonder how effective these teachers were. Did they put people to sleep?
Then Jesus appeared on the scene as a new, "self-taught" rabbi. He was given the floor one Sabbath day and taught (Mark 1:21-28).
"Jesus came to Capernaum with his followers, and on the Sabbath he entered the synagogue and taught. The people were astonished at his teaching, for he taught them as one having authority and not as the scribes."
People didn't fall asleep on Jesus! In fact they were astonished, not by his dazzling personality or humorous anecdotes, but by the authority with which he taught. He knew what he was talking about because his words came straight from the heart of God—source of all truth. Something inside every human being recognizes the voice of their Creator when he speaks to them, and are moved by what they hear.
Not only were the people stirred by the teaching of Jesus, but his enemies were as well. What the scribes taught didn't bother them, but when the raw truth was proclaimed, they were forced to react.
"In their synagogue was a man with an unclean spirit; he cried out, 'What have you to do with us, Jesus of Nazareth? Have you come to destroy us? I know who you are—the Holy One of God!'"
The unclean spirit tried to disrupt the service and get the attention off Jesus. It, in effect, tried to make fun of Jesus. Distraction is a favor tactic of the enemy.
Jesus was not intimidated by the intruder. The authority of his teaching was backed up by the authority of his actions.
"Jesus rebuked him and said, 'Quiet! Come out of him!' The unclean spirit convulsed him and with a loud cry came out of him. All were amazed and asked one another, 'What is this? A new teaching with authority.'"
The unclean spirit gave Jesus the opportunity to put a giant exclamation point at the end of his presentation. He had the power to subdue the enemies of God that held people captive. The possessed man was set free by a simple command of Jesus! The teaching of Jesus was not about sharing new ideas or Scriptural theories. It was about changing the lives of people—setting them free from the darkness that engulfed them. Far from putting people to sleep, Jesus woke them up to the great action of God that was taking place in Israel. The long-promised day of fulfillment had come!
Wouldn't it be great if Jesus visited our Bible study this week? Wouldn't it feel good to be astonished by his words and awakened to a new day in our lives? And, wouldn't it be exciting if Jesus unbound some of the spirits that have been holding us captive—maybe all through our lives? Too bad we didn't live in Capernaum in the days of Jesus.
The good news, as we know, is that Jesus is still with us. He has given us an ever-present teacher who teaches with the same authority he had and expels demons as effectively as he did. Who is this new teacher? The Holy Spirit. Remember when Jesus told his disciples that he would not leave them orphans but give them a new teacher to take his place.
When we pray, "Come Holy Spirit," whether we are in Church, at Bible study, or at home, if we mean what we say, the "Teacher" becomes present. And if we are docile, the "Teacher" will teach us with authority and change our lives. This is a guarantee from God's Word (see Luke 11:13). No time for us to whine about the scribes who put us to sleep. We have the "Holy Spirit!"
"Receive the word of God, not as the word of men, but as it truly is, the Word of God" (1 Thessalonians 2:13).