In today's Gospel, Jesus gives us the recipe for salvation. And it seems so simple.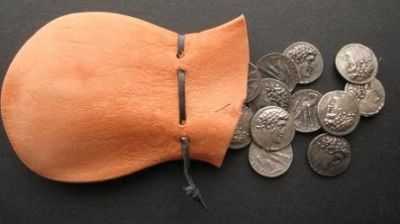 Don't kill. Don't commit adultery. Don't steal. Don't lie. Honor you mom and dad. Love your neighbor like you love yourself.
These seem to be pretty simple rules to follow. One doesn't have to be a saint or suffer tremendously to follow any one of them. For most, it should be a matter of simply following your natural instinct to do the right thing.
And then we have the final ingredient of this recipe for eternal life. It comes in the form of a question from a young man who wondered what he still lacked in his life.
That's when things got tricky.
'There is one thing you lack. Go and sell everything you own and give the money to the poor, and you will have treasure in heaven; then come, follow me.'  But his face fell at these words and he went away sad, for he was a man of great wealth."
It is indeed sad when we cling to things in our lives that may give us some temporary earthly pleasures, but not the heavenly joy our hearts and souls long for.
But it's not hard to  understand. We all have them, after all. Our vices, our passions, our addictions. Things we use like a salve on our wounded human natures … they make us feel good; make us forget the hard life; help us to escape reality for a while.
Problem is, they are poor imitations of the only prescription we ever need, which is to lean on God through prayer, spirituality and good works.
This is why we observe periods of fasting. We train our bodies and souls to remove those things in our lives that we are using to obtain our own version of peace, rather than relying on the true peace that is only possible with God.
Sure, we try. We try to pray more. Try to be spiritual. Try very hard to love our neighbors.
But we don't always get it right. We slip. We're human.
I'm always struck by this young man in the Gospel who is standing face-to-face with the One who can give him all the peace anyone could desire … but he walks away sad.
But then, we all do it. Every Sunday we are face to face with our Lord in the Liturgy. But when we leave the Church, how long does it take before we put Jesus back in the box and go on living a "life of many possessions?"
Some of us can hold out a few days, maybe even most of the week.
Others can't get out of the parking lot without forgetting what just took place at the altar.
I am as guilty as anyone …
But I don't walk away sad because of my possessions. Instead, I try to walk toward God … try to overcome the hurdles that keep knocking me down.
Humbly, I admit that I cannot do this alone.
Pray for strength.
Pray for persistence.
Pray for me … as I pray for you.