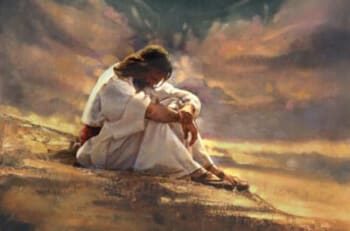 (Ezekiel 18:21-28; Psalm 130:1-2, 3-4, 5-7A, 7BC-8; Matthew 5:20-26)
Fasting, mercy, forgiveness, and man's iniquity – the common threads woven throughout today's readings. Oh how beautiful is God's mercy and forgiveness and how torturous it is when we place ourselves outside such beauty and surrender to our own iniquity. Yet, it is through our free will that we commit such offence, the offence of sin. Sin that causes death and creates in us a life apart from God, apart from his merciful help and forgiveness. Sin must be more horrific then we can possibly imagine, after all, it results in the withdrawal of our most merciful Father's hand from our lives.
Then we have Jesus' rather ominous words in today's Gospel. He warns us that to carry anger or unforgiveness causes us to be "liable to fiery Gehenna" or subject to prison. Unpleasant visions of a life trapped in a worldly prison void of God or time spent purifying in the prison of purgatory run through my mind. Jesus even reminds us today that we are liable for the pain we inflict upon another, if we have hurt or offended our brother we must make things right as best we can. Jesus, in addition to calling us to avoid committing our own inequities, he also calls us to seek and offer forgiveness. Pretty tall orders for a person who lives on earth where the evil one runs rampant taunting us with his lies and false promises.
So how can sinful individuals like ourselves escape the pain of fiery Gehenna, spiritual imprisonment, or the death of sin? There is only one answer my friends. We must find life, true Life with a capital "L". To do so we are called into humility, we are called into forgiveness, and we are called to die to our sinful nature. And while this may sound attainable for a saint, the sins we have committed (at least the sins I have committed) have left us a bit blind and deaf – unable to fully hear God's life giving messages. It seems we are left without a clear roadmap – albeit of our own making.
However, we know that God's grace and mercy abounds without limits and we know God desires that all of his beloved children come home to him.
Say to them, As I live, says the Lord God, I have no pleasure in the death of the wicked, but that the wicked turn from his way and live; turn back, turn back from your evil ways; for why will you die, O house of Israel? – Ezekiel 33:11
God sees and understands our pain, he lived it in the body of Jesus Christ. Our God, our King, who out of all humility became man, continually beckons us towards himself – we only need to grab hold of the lifelines he extends our way.
During this Lenten season we are blessed with gentle reminders of these lifelines. As our Church teaches us, the three primary lifelines that connect us with God are prayer, fasting and almsgiving. Since it's Friday during lent we are particularly reminded of God's call of fasting. The scripture readings presented this week beautifully remind us of the power fasting holds in our physical and spiritual lives. On Sunday we read of Jesus' forty days in the desert where he fasted and frustrated Satan's attempts, on Wednesday we read of Jonah, the king of Nineveh and his people as they fasted and saved their city, and then yesterday we read of Queen Esther who, through three days of fasting with her maidens, saved Jerusalem from near extinction.
The Bible is rich with scripture on fasting. I invite you, during this Lenten season, and especially during this Friday of the first week of Lent, to reflect on such scripture. As I shared with all of you in my reflection last Friday, many holy saints throughout history have practiced fasting, and as a result experienced a deeper and more profound relationship with our Lord. I believe that by studying the lives of the saints we will find a most beautiful path towards Christ, and an earnest look at their lives will ultimately reveal to us a great and mysterious power in fasting.
Scripture on Fasting
"Go, assemble all the Jews…and fast for me; do not eat or drink for three days, night or day. I and my maidens also will fast in the same way. And thus I will go in to the king." – Esther 4:16
"So he was there with the Lord forty days and forty nights; he did not eat bread or drink water, and he wrote on the tablets the words of the covenant, the Ten Commandments." ­ Exodus 34:28
"Yet even now, declares the LORD, return to Me with all your heart, and with fasting, weeping and mourning…Consecrate a fast, proclaim a solemn assembly, gather the people, sanctify the congregation…" – Joel 2:12
"So I gave my attention to the Lord God to seek Him by prayer and supplications, with fasting, sackcloth and ashes." – Daniel 9:3
"They gathered to Mizpah, and drew water and poured it out before the LORD, and fasted on that day" Through prayer and fasting, the Lord delivered Israel from the threat of the Philistines, who had oppressed them for so many years. – 1 Samuel 7:6
"But this kind [of demon] can be cast out in no other way except by prayer and fasting."  – Mark 9:29
"Then Jesus was led up by the Spirit into the wilderness…And after He had fasted forty days and forty nights…" – Matt 4:1
"She never left the temple, serving night and day with fastings and prayers. At that very moment she came up and began giving thanks to God, and continued to speak of Him to all those who were looking for the redemption of Jerusalem."  – Luke 2:38
"They are the enemies of the cross of Christ: Whose end is destruction, whose God is their belly, and whose glory is in their shame, who mind earthly things." – Phil 3:19
"While they were ministering to the Lord and fasting, the Holy Spirit said, 'Set apart for Me Barnabas and Saul for the work to which I have called them.' Then, when they had fasted and prayed and laid their hands on them, they sent them away." – Acts 13:2
By uniting our fast, our hunger, our desire for food, and our human weakness with our desire to open ourselves to God's message, we allow for a mystical line of communication to supervene – our eyes and ears are opened in a new way. God in return will draw us deeper into his love and mercy where we can fully live. It is here, within God's love and mercy, where we will turn away from sin, not out of a desire to avoid fiery Gehenna or to save our lives; rather God's light will become irresistible and we will find ourselves running towards him with all our will and strength.
Yes, fasting provides a unique space for a multitude of God's messages to reach us, where he can speak and draw us nearer then before. Sit back and watch how God speaks to you through your fast, open this lifeline and let him in. Let us today, fast joyfully together as a Catholic nation, as God's people scattered throughout the world like yeast in dough, where we can fast and witness the miracle of salvation for all the world to see.
Sacred heart of Jesus – have mercy on us.
Disclaimer: Fasting should only be done when you are healthy enough to do so, the information shared here is not meant to be diagnostic or prescriptive in nature. For medical advice seek the counsel of your medical professional before beginning any new health program.