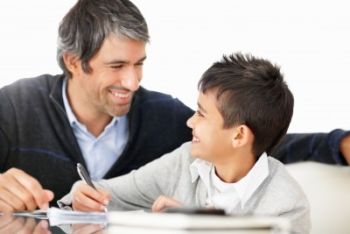 Honoring Your Father
In this busy world we sometimes forget to stop and give attention to our family. And yet, it is the family that God created and set at the foundation of society. God intended for the family to be our place of respite, learning, and a place where we come to more fully know God.
A look at the role Joseph held in the Holy Family and we witness the profund importance of fathers. It was Joseph, the unsung hero, who protected Jesus and Mary so that the world could come to know its Savior. Joseph was vital to God's plan for humanity – Mary and Jesus needed his protection, provision, and love. Our fathers are vital to our families as well.
Atoning For Sin
In today's readings we see the importance of the father in the family, this man who God set as the protector and provider. Sadly, the world all too often minimizes the role of fathers today. God calls us to honor our father – even telling us in today's first reading that "whoever honors his father atones for sins, and preserves himself from them."
Pretty powerful stuff! By honoring our father we receive healing from the pain sin has inflicted in our lives and the lives of those we love. Then a look at the Fourth Commandment according to the Catechism of the Catholic Church (Protestants and Jewish sources list it as the fifth) and we see the only Commandment that comes with a promise.
"Honor your father and your mother, that your days may be long in the land which the Lord your God gives you."
The Catechism
The Catechism lists several duties that children are responsible for when fulfilling the Fourth Commandment, and when met, they set the foundation for love to flourish in the family. Once love flourishes unabated then the healing and restoration that God intends for each and every one of us will spontaneously happen.
Paragraph number 2197–2257 (1994). "Catechism of the Catholic Church". Libreria Editrice Vaticana.
Respect toward parents that also flows to brothers and sisters.
Gratitude, as expressed in a quote from Sirach: "Remember that through your parents you were born; what can you give back to them that equals their gift to you?"
Obedience to parents for as long as the child lives at home "when it is for his good or the good of the family", except when obedience would require the child to do something morally wrong.
Support that requires grown children to offer material and moral support for their aging parents, particularly at times of "illness, loneliness, or distress".
You see, our parents gave us life – a gift we can never repay. The best we can do is honor them. Honor them for what they carry, and give gratitude for what they are able to give us. Remember, they are human beings who, like ourselves, carry the stain of Original Sin. It is this sin that blunts our receiving the fullness of love God has for us. Yet, when we honor our fathers, give him his due deference, sins are atoned for as we are ourselves preserved from sin.
Christmas Gatherings
Families across the world have gathered together to celebrate of the birth of Christ. For many, these celebrations were beautiful, joyous and they were filled with an abundance of family love. Yet sadly, many families have experienced the pain of family disagreements, discord, and even exclusion of family members this season.
I invite you to reflect on how your family members related to each other this season. If there was heartbreak and lack of honor amongst your family members I invite you to set aside some time to pray for your family. If you learned of such division in other families then I invite you to pray for them – remember, we are all one family in Jesus Christ. Perhaps ask for Saint Joseph's intersession, perhaps a Novena or Chaplet. Saint Joseph is the Patron Saint of the family and he wants to assist all families of the earth to more fully know and love his family – his wife Mary and his son Jesus.
The best thing to give to your enemy is forgiveness; to an opponent, tolerance; to a friend, your heart; to your child, a good example; to a father, deference; to your mother, conduct that will make her proud of you; to yourself, respect; to all others, charity.

– Benjamin Franklin, Founding Father of the United States
Father as Provider and Protector
If you would like to read more I invite you to visit a blog post on my website. In it I reflect on the role of the father in the family – including the times when the father of the family falls short of the plan God holds for him: Father as Provider and Protector
---
I hope you find your way home towards the love and forgiveness of Jesus Christ – the one who is love himself. May you speak and think words of love, forgiveness and mercy as you sing and praise of God's glory! – Carolyn
Sacred Heart of Jesus – have mercy on us.
Mother Mary – pray for us.
Saint Joseph – pray for us
---
Today's Readings Sirah 3:2-6, 12-14 or Colossians 3:12-21; Psalm 128:1-2, 3, 4-5; Matthew 2:13-15, 19-23
---
My Book
I have been working on a solution for those who seek to read my book, Understanding The Jesus Code, yet have found it is not available via Amazon in their country, or those who are financially unable to obtain a copy. If you are experiencing either issue please email us so we can help.