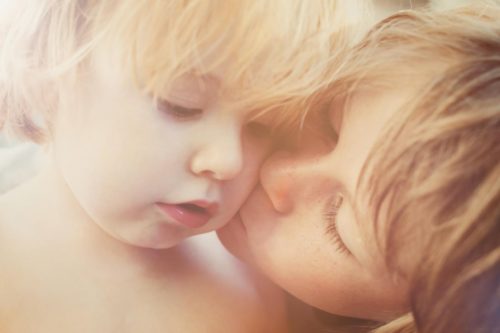 As I sat with today's readings my heart reflected on brotherly love, or I guess the lack thereof between Cain and Abel. Cain's murder of Abel must have profoundly struck the hearts of Adam and Eve. God told them that childbirth would be painful as a result of Original Sin and I can't think of a pain that would cut deeper into a parent's heart than learning that their son killed his brother. The pangs of the parent's personal sin undoubtedly wounded in the first family of Adam and Eve.
Original Sin deprived our first parents of the original holiness God offered them and this left them vulnerable to the influence of the Evil One. In turn, their personal sin deprived their children of original holiness as well. This deprivation especially affected their first born son Cain. Instead of life expanding, death entered in – spiritual and physical death. We too suffer from the deprivation of God's original holiness. Yet, our loving God always reveals to us a way home into life. This way is through Love.
Divine Love
We have a loving Triune God and our hearts crave the love they share. Three persons giving and receiving the fullness of divine love; God the Father, God the Son and God the Holy Spirit loving in perfect harmony and existing as One. Their complete giving and receiving of love is part of their Oneness. Love is their divine glue. The human heart aches to experience their divine glue of love.
We are created in the image of our Triune God. As we begin to understand this we see that their love also holds us together, without it we fall apart. When we give and receive love we find ourselves within the river of divine love and we reconnect with the love of God. The key is finding the pathway into love.
Then God said: Let us make human beings in our image, after our likeness. – Genesis 1:26 [a] (NABRE)
Brotherly Love
As children created in the image of God we have free will to choose life (love) or death. In today's first reading John lays out how to gain access to love – it is through loving our brothers. Yet, it's not always easy to love our brothers and sometimes we choose against love. When we choose against love we follow the temptation of the Evil One and we find ourselves outside the source of life – "Whoever does not love remains in death". And like Cain, we allow pain and heartache to enter into our hearts and the hearts of our loved ones.
Jesus came to reveal to us the pathway into love. He gave us two commandments; love God above all others and love our neighbors as ourselves. When reflecting on today's readings I saw a beautiful relationship between Jesus' commandments and the first two sins found in Genesis. The key to real freedom was sitting right in front of me.
As always, the key to true freedom is found in Jesus Christ. Adam and Eve were disobedient to God when they committed the first sin. And Jesus, in his first commandment, calls us into obedience to God. Cain expressed the ultimate lack of love towards his brother when he murdered Abel. Then Jesus, in his second commandment, calls us to love our neighbors (brothers) as ourselves. Jesus, the New Adam, came and showed us how we can heal and experience the bliss God originally intended for his children and it all comes down to love. We are called to love God as God originally wanted Adam and Eve to love him, and we are also called to love our brothers as God originally wanted Cain to love his younger brother Abel.
He said to him, "You shall love the Lord, your God, with all your heart, with all your soul, and with all your mind. This is the greatest and the first commandment. The second is like it: You shall love your neighbor as yourself. Matthew 22:37 – 39 (NABRE)
Love Can Be Hard
I know it can be hard to love sometimes – especially when our hearts hurt. It seems our hearts hold on to anger or jealousy like Cain's did all too easily. This is where forgiveness comes in. On the cross Jesus authored forgiveness. He showed us how to forgive – "Father, forgive them, they know not what they do." – Luke 23:24 (NABRE). Luke 23:24 is one the most familiar verses in the entire Bible. We cannot forgive fully without Christ and we must ask for his help. He knows how to forgive and he will guide us through the struggle.
The price for unforgiveness is high. When unforgiveness occupies a place in the human heart it blocks love – unforgiveness and love cannot occupy the same place. Or hearts condemn when we do not forgive and this condemnation causes us to lack confidence in God. This is why God sent his Son – he knew we needed a Savior to show us how to fill our hearts with love. I invite you to visit my blog post on one of my favorite forgiveness meditations if you are struggling with forgiveness: Forgiveness Circle Meditation
Crying Out With Joy
The human heart is capable of extending great praise and song to God, after all, it is created in the image of God's heart. God loves it when we praise him alongside our brothers! We are called to love our brothers in "deed and truth" as Saint John tells us today. This means we are called to get in the trenches with our brothers – walk with them on their journey and help each other along the way. Before we can truly walk with our brothers we must tear down the walls of unforgiveness and anger between us. Every time we tear down these walls our ability to love expands. It's a journey worth taking and a journey that has Love at its final destination.
Prayer Intentions
I want to thank everyone who reached out to me with prayer intentions last week. Many of you posted your requests in the comments section and others privately emailed your prayer request to me. Your stories deeply touched my heart. As I sat reading your requests soft tears ran down my cheeks (I am the sensitive type by nature) and my heart felt a bit of your pain. There is so much pain in the world. Yet, we are all part of Christ's body, broken as it is and wholly loved.
Prayer is the most powerful instrument we have against pain and evil in this world. If you would like me to pray for you this upcoming week please leave your prayer request below or email me privately. Also, I invite you to join with me in prayer for all of the intentions shared here (spoken and unspoken) – mine included.
As St. Paul spoke – "Where sin increased, grace overflowed all the more." – Romans 5:20 (NABRE)
God bless all of you. See you next week Friday! – Carolyn
---
Sacred Heart of Jesus – have mercy on us.
Father God – consume us.
Holy Spirit – enter into us.
Blessed Virgin Mary – pray for us.
Saint John Neumann – pray for us.
Today's Readings: 1 John 3:11-21; Responsorial Psalm 100:1B-2, 3, 4, 5; Gospel John 1:43-51