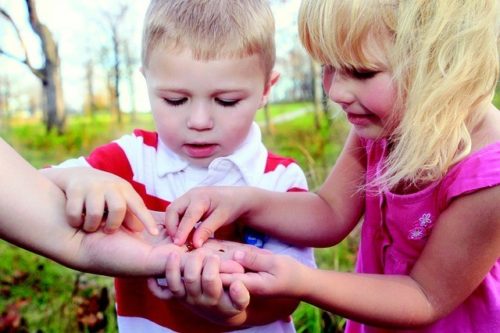 My dad told me the story of when he took me hunting with him. I was about four or five years old, and had never seen an animal shot before. When my dad lifted his rifle and pointed toward an unsuspecting rabbit, I looked at him and said, "Why are you going to shoot him, he never did anything to hurt you." With that my dad put down his rifle, and we never went hunting again.
Being a small, innocent child I could see things that my dad could not see. For me rabbits were like pets—things to play with not to shoot. "Big" people had grown to see rabbits as a food source and a recreational targets for hunters. I wasn't able to see through "grown up" eyes, and I'm glad I couldn't.
When we give our hearts to Jesus, we, ironically, start "growing down" again. As we let him change us, we start becoming childlike in our thinking. We begin to see things the way God sees them.
Today we see Jesus rejoicing. I don't recall other times in the Bible in which Jesus was doing this. What was it that caused joy to burst open in Jesus' heart (read Luke 10:21-24).
"Jesus rejoiced in the Holy Spirit and said, 'I give you praise, Father, Lord of heaven and earth, for although you have hidden these things from the wise and the learned you have revealed them to the childlike."
When we look for answers to complicated things, we go to the wise and the learned people of the world. It would be silly to seek the opinion of a four or five year old pre-school child, wouldn't it? Yet Jesus said the revelations of God cannot be seen by the sophisticated minds of "big people." Only those with the eyes of a child can truly see the things of God.
Little children, as they play with their stuffed animals, have no difficulty in letting their stuffed wolf play with a lamb and their lion "doll" sharing a place in the toy barn with a cow. Why wouldn't their stuffed animals want to like each other? And it doesn't scare them to pick up a rubber snake in their hands.
They have the eyes to see the world as the prophet Isaiah did (11:1-10) when he looked into the future and prophesied:
"Then the wolf shall be a guest of the lamb, and the leopard shall lie down with the kid. The calf and the young lion shall browse together, with a little child to guide them…The baby shall play by the cobra's den, and the child lay his hand in the adder's lair."
Notice how the prophet centers on children in this passage.
"There shall be no harm or ruin on all my holy mountain; for the earth shall be filled with the knowledge of the Lord."
On that day everyone will have the eyes of a child. Peace and harmony will rule over the earth. This is the day when the new King shall take over. And who is this new king? What famous dynasty will he come from? What universities will he attend? What kind of warrior skills will he have? Let's listen:
"A shoot shall sprout from the stump of Jesse, and from his roots a bud shall blossom. The Spirit of the Lord shall rest upon him."
How strange!  Coming from a tree is one thing, but from a stump? Stumps are what stays behind when a tree dies.  There is no life in them anymore.  And yet from a stump, a new root will grow, and a tiny sprig will fight its way through the ground. Then a tiny, insignificant, delicate bud will blossom.  Only a child would notice a tiny bud sneaking up alongside a dead stump in the forest.
This gentle bud with the Spirit of the Lord resting on him, will rise to rule the nations with justice. How hard it is for us to understand this.
"He shall judge the poor with justice, and decide aright for the land's afflicted. He shall trike the ruthless with the rod of his mouth and with the breath of his lips he shall slay the wicked."
At last the poor and afflicted will be safe, and the perpetrators of evil will be destroyed! It is hard for us "big people" to believe that such a gentle leader, a bud growing out of a dead stump will be the one who wins victory for the weak of the world. For a child, however, this makes complete sense.
Our Advent prayer today is that we learn to humble ourselves and see, once again, through the eyes of a child.
"He shall have pity for the lowly and the poor" (Ps 72:13).