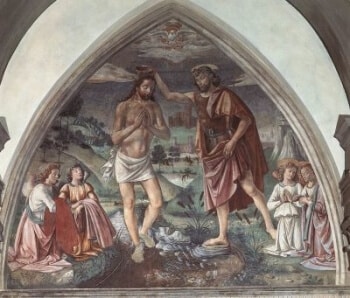 Have you notice how many TV ads speak to the need for humans to be empowered? Seeing ourselves as coming up short of who we wish we were, we seek solutions that will make us feel more powerful. Some want to lose weight, others want a more muscular physique, others want to feel more self-confidence, and still others want to improve their education. We buy into a program that promises to enhance certain aspects of our body, mind, or personality. These programs sell us on the hope of being empowered.
Today's gospel reminds us that Jesus is also in the empowerment business. In fact that was his ultimate purpose of coming to earth. And he is capable of doing more in one minute than what all the self-improvement programs combined can do in a year (John 1:29-34).
It all started with the testimony of John the Baptist.
"A man is coming after me who ranks ahead of me because he existed before me. I did not know him…"
Apparently Jesus was so ordinary that even the holy John did not notice that he was different from any of the other people who came to the Jordan River. It took an extraordinary intervention of God to reveal to John who Jesus was. John testified to his disciples:
"I saw the Spirit come down like a dove from the sky and remain upon him (Jesus). I did not know him, but the one who sent me to baptize with water told me, 'On whomever you see the Spirit come down and remain, he is the one who will baptize in the Holy Spirit.'"
With his spiritual eyes John saw the Holy Spirit come down from heaven and not only land upon Jesus but "remain" upon him. The Holy Spirit remained on Jesus so that he would have extraordinary powers: to heal, forgive sins, drive out demons, teach with authority, and raise people from the dead. Beyond all of this, however, he had the most amazing of all powers, the power to "baptize in the Holy Spirit." In fact, this was the most important of all his powers; it was his fundamental mission on earth.
During his public ministry on earth he exercised all of the powers listed above except one: he was not able to "baptize in the Holy Spirit." This could not happen, as Jesus explained to his disciples, until after his death. Only then could they receive the fullness of the Holy Spirit.
Why is baptizing in the Holy Spirit the greatest work of Jesus? Because it elevates us, in a moment, to the level of being children of God. The Holy Spirit does not just heal us, boost our self-confidence, or make us stronger people. It transforms us into being living temples of God. Our very root-identity is changed by an act of God's sovereign power.
St. John reminded his flock what the power of the Holy Spirit had done for them (1 John 2:29-3:6).
"Beloved, we are God's children now; what we shall be has not yet been revealed. We do know that when it is revealed we shall be like him, for we shall see him as he is."
Could there possibly be any higher level of empowerment than this? We are literally transformed from an "Adam life" to a "Jesus life." We become, literally a "new creation." And that is just the beginning. Daily we are moving toward a level of existence in which we will be like God and have the capacity to "see him as he is."
Doesn't this blow our minds? Doesn't it make us want to so cooperate with God's work in us so that we resemble Jesus Christ more and more? Doesn't it make us want to avoid sin in any of its forms? Doesn't it want us to activate the full power of our Baptism by being "baptized in the Holy Spirit?" This is God's greatest gift to us and it is available for the asking.
"The Word of God became flesh and dwelt among us. To those who accepted him he gave power to become children of God" (John 1:12,14).
Bob Garvey (bgarvey@aol.com)