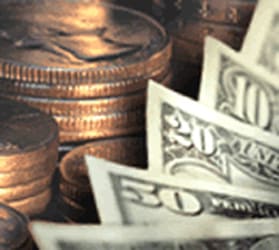 Josh set out on his own and rented an apartment. The owners required that he have someone co-sign his lease. They didn't trust him to cover the rent each month, so he needed a "back up" person. When his dad stepped forward and co-signed the lease, all was well. The owners didn't trust Josh, but they completely trusted his financially-secure dad.
When we set out in life to take on new responsibilities, we are afraid. Sometimes we risk our financial security, our health, or reputation. Wouldn't it be wonderful if we had an all-powerful dad who would "co-sign" for us? No matter what might happen, he would cover us in case we came up short.
Imagine the peace that comes with having such a one to co-sign for us. We would be quicker to take risks and invest ourselves more fully in life, if we knew we had a back-up plan that would never fail us.
Today we read the story of the Church's first martyr, St. Stephen, who risked everything in defending the gospel (Acts 7:51-8:1). He stood up boldly against his antagonist and spoke so powerfully that his face began to look like an angel. How could Stephen do this? He was risking all he had including his very life. His secret was in his "back up plan."
As he was being pummeled with stones, he cried out:
"Lord Jesus, receive my spirit."
In effect he said the same prayer that Jesus prayed uttered as he was dying—a prayer taken from Psalm 31, which is the responsorial psalm for today. Let's listen to the powerful words of this Psalm (3-8,17,21).
"You are my rock and my fortress; for your name's sake you will lead and guide me. Into your hands I commend my spirit; you will redeem me, O Lord, O faithful God."
Let's remember that these were not pious words recited by a prayerful person, sitting in the comfort of his rocking chair. They are the words of a man who was confronting enemies much stronger than he, and whose life was being threatened on a daily basis. The psalmist knew that if God was not "co-signing" for him, his life would go down the tubes. Having God, Himself, as a rock, he was able to sit high above the raging waters and not even get wet. With God as a fortress, all the armies of the world could not penetrate his defenses. He had given over to God the most valuable thing he had—his spirit. With his very spirit resting in the hand of God, he had nothing to fear—not even death. God would redeem his spirit even from death, if necessary.
"My trust is in the Lord; I will rejoice and be glad of your mercy."
Knowing his dad has him covered and that he could trust completely in his dad, Josh was free to "rejoice and be glad"—which in this case means enjoy his new apartment. We are entitled to live worry free lives and "rejoice and be glad" because our heavenly Father has us covered, no matter what happens. Even when we sin and fall short of living up to our terms of the covenant, God will not let us down—his mercy never runs out.
Sadly, we forget that God has given us a backup plan, and so get into the habit of thinking we must rely on our own resources or on other people who may let us down when we need them. Today we stop and start trusting again. We remember that God has "co-signed" for us, and he has written his name on the contract with the blood of his Son.
"Let your face shine upon your servant; save me in your kindness" (Ps 31:17).