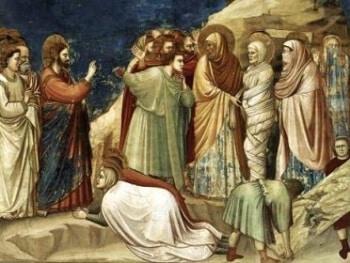 There are two choices for the first reading for mass today.  One is about love (Jn 4: 7-16) and the other is about weeping (Jer 14: 17-22).  They both apply to the first choice of the gospel reading today, from the gospel of John, when Martha and Mary were mourning for their brother Lazarus who had died.  They loved him very much, and they were also weeping over his death.
The second choice for the gospel reading, from the gospel of Luke, tells the story about Jesus chastising Martha for complaining that Mary was not helping her with the serving.  "Martha, Martha, you are anxious and worried about many things."  But, this is not necessarily a bad thing.  She is a saint after all, and saints were never perfect.
Today is the Memorial of Saint Martha, by the way.  That is why we have two sets of readings for Mass.  Saint Martha is almost always remembered for her faults though.  She was chastised by Jesus for complaining about Mary.  That is the first thing about her that comes to mind when most of us think about Martha.  However, it wasn't her faults that made Martha a saint.  It was her faith.  However imperfect a person she was, Jesus loved her and she had great faith in him.  This should be encouragement for all of us who are imperfect people too.  Saints Peter, Paul, Mary Magdalene and Martha all had their character flaws and faults, but they are remembered more for their deep faith in Jesus Christ.
Rather than focus on the second choice in the gospel, that describes Martha's faults, perhaps it would be good to look at her strengths, since today is her feast day after all.  No one wants to be remembered for their worst traits.  Do you?  When you die one day, do you want other people to remember you for your worst traits?  That is something to give some thought to when we think about other people too.  Are their character flaws, faults, weaknesses or sins what we think of first, when we think of them?  Or do we remember their goodness?  We should be careful what we think about other people, because sooner or later it will come out.  Our negative thoughts about another person may also turn into a negative reflection on ourselves.  The opposite is also true.  Our good thoughts can also be a reflection of the goodness in our hearts as well.  We are what we think.  Our thoughts matter.  We become what we think.
This is quite evident in the gospel today when Jesus asked Martha what she thought:
"I am the resurrection and the life; whoever believes in me, even if he dies, will live, and anyone who lives and believes in me will never die.  Do you believe this?"
When Martha answered, "Yes, Lord, I have come to believe that you are the Christ, the son of God, the one who is coming into the world," this shows that she had clearly given a lot of thought about who Jesus really was.
Thinking about faith is not the same thing as having faith, but by thinking and reflecting on Christ's life we can come to know him more deeply.  Many protestants, including protestant theologians and ministers, have converted to the Catholic faith after studying the early church fathers, for an example.
However, even average people (like Saint Martha) can come to know the Lord Jesus, and increase their faith in him through personal reflection on the events they have personally witnessed in their life too.  For over one thousand, eight hundred years of Christianity most people couldn't even read.
Saint Martha witnessed many things about Jesus during her life and she knew the truth about Jesus from personal experience.  How she processed those experiences is what made her a saint.  Her faith came from divine revelation.  Jesus revealed himself to her, a little bit at a time, until she came to understand who he really was.  Without this faith, we don't know if Jesus would have raised Lazarus from the dead or not.  It was important to Jesus to know if Martha believed in him though, not because other people had talked to her about him, but because she had come to know him, and believe in him for herself.
This is the same challenge for all of us.  Do we really know Jesus, personally?  Do we believe in him, aside from what we have been taught about him?  If we had to stake our life on the fact that jesus really is the Son of God, could we?  If so, then we will never die.  Death has no hold on us, anymore than it did for Lazarus.