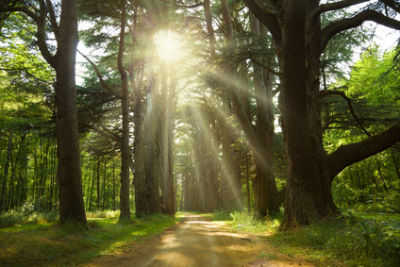 I can picture Saul as a lifetime sinner, never believing in the man they called Jesus. I can picture Saul as a representation of all of the bullies that I have known. Saul is much more than just a bully though. He is a modern-day ISIS fighter. He is a modern-day liberal who seeks to crush the Catholic Church. Saul requested papers allowing him to put Christians into cages which ultimately led to their death. He was determined to fight the Christian ideology and crush the rising epidemic of faith. Saul has a hardened heart and the only one who could reach him was Jesus.
Saul's conversion story in today's first reading is a magnificent example of Christ's mercy for His loved ones. Jesus had big plans for Saul. In order to open his heart and mind to His plan, Jesus needed to reach Saul in a terrifying and intimidating fashion. Jesus delivered the opportunity to convert his heart to love by blinding Saul. The experience of hearing a booming voice and seeing blinding light was probably alarming for Saul. To be plunged into a world of darkness was also probably horrible but those experiences were necessary because of how hard Saul's heart was. It takes a great strength to move that which is stubbornly not moving and Saul was not moving toward Christ.
As scary as it was for Saul, his story is so inspiring for us. Jesus knows the best possible path for each of our lives and most of us fight His guidance and direction. We have the gift of free will to choose whatever we want to do but how can we possibly know what is best? We are so lost as a society and we have no idea where we are going. I believe Christ continues to work in our lives every day no matter how much we ignore Him, turn our backs on Him, defy Him, persecute Him, insult Him, and choose not to believe in Him. Christ is the shepherd who left His whole flock to search for that one lost sheep – He will always be searching for us lost ones. He will always work in your life to open your heart to His will but He will not force you to love Him. Jesus will continue to give you opportunities to grow and learn and even though it may not arrive in the way of a booming voice, blinding light, and blindness, God will send you signs that He wants a relationship with you.
The other important piece of Saul's conversion story is Ananias. Ananias shows us a great example of faith in the Lord. He disregards all of the terrible stories that he has heard of Saul and goes to him anyway. Ananias brings light back to Saul, helps him open his heart to Jesus Christ, and introduces him to the amazing life of Christianity. What a marvelous story of forgetting our hesitations and trusting in the Lord to know what is best. Ananias probably would have never approached Saul without Jesus asking him to and his role in Saul's conversion probably greatly impacted him as well.
Today's first reading is a heartwarming story of the Lord's mercy and powerful opportunity for conversion of heart as well as inspiring faith and trust in Jesus' plan. Allow this reading to remind you of the Lord's mercy. Recall opportunities and moments that God has softened your heart and contemplate how important those moments are in your faith journey. When has God asked you to be faithful against what you think you know? Have you disregarded the stories you have heard about someone in order to shine Christ's light on them? Do not allow yourself to be weakened by gossip but instead trust in the Lord's loving mercy for every human soul. Know that everyone can learn to love – sometimes they just have not learned love from anyone yet and are waiting for you to be the first one.