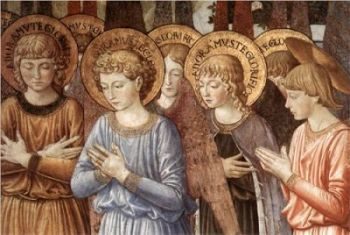 Have you ever been accused of something you didn't do? Once a student of mine reported me to the office for doing a poor job in the classroom. What the administrator didn't know is that I had just given that student a low grade on a test, and he was trying to get back at me. In this case the accuser was trying to shift the blame from himself to his teacher.
Do you know that right now someone is accusing you? This person is not going to your boss but all the way to the top. He is accusing you before God himself. How do I know this? Check out today's reading (Revelation 12:7-12).
"For the accuser of our brothers is cast out, who accuses them before our God day and night."
Read the first part of this selection and find out that the accuser is, "The huge dragon, the ancient serpent, who is called the Devil and Satan, who deceived the whole world."
The "ancient serpent" is trying to throw the blame back on Adam and Eve who fell for his tricks, and us their children.
Today the Church celebrates the feast of the three great archangels: Michael, Gabriel, and Raphael. While the "accuser" is trying to make a case against us in God's court, we have angels as our defense attorneys. And guess whom God listens to?
We read today that, "War broke out in heaven; Michael and his angels battled against the dragon. The dragon and its angels fought back, but they did not prevail and there was no longer any place for them in heaven." The dragon learned its lesson, and, coward that he is, starts fighting against human instead of the great Michael and his army.
While the serpent reminds God of our sins and demands justice, our angels remind Him of Jesus on the cross and asks for mercy. Though the perpetrators of evil try to condemn us, God's mercy rules the day. His love drowns out the noisy accusations of the "accuser." The Devil not only lost a place in heaven, he also lost his cases against God's children.
God's angels have an upper hand on the "accuser," and the good news is that we do too. We read that, "They (the brothers) conquered him by the Blood of the Lamb and by the word of their testimony; love for life did not deter them from death."
Imagine that! Our testimony to Jesus united to his Blood conquers the Devil. This is especially true when our testimony comes in the form of accepting death rather than deny Jesus. Now the accuser is so humiliated in God's court that even we humans have the power to defeat him. We, and our angels, form a team, and we maintain an undefeated record! God's mercy triumphs once again!
"In the presence of the angels I will sing your praise" (Ps 138:1).